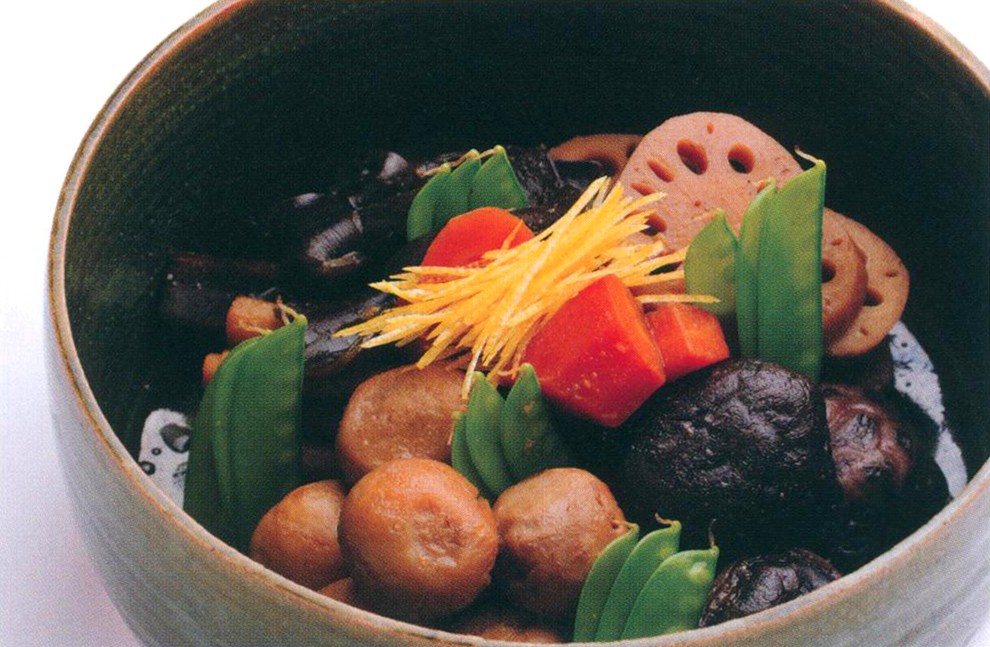 Ingredients
For the stock
4 tbsp dashi
4 tbsp mirin
2 tbsp light soy sauce
2 tbsp soy sauce
30 cm piece of kombu
8 small shiitake mushrooms
1 carrot, peeled
1 burdock root, peeled
½ lotus root
12 satoimo (taro)
12 mange tout
Some yuzu (Japanese citron), if available
Some salt
Method
Soak the kombu in cold water until soft, then cut into 1.5 cm long and 1.5 cm wide pieces and tie into knots. Place the shiitake mushrooms in a heat-resistant container. Pour in plenty of tepid water, cover with cling film, then heat for 2 minutes in the microwave. When cool enough, cut off their stalks.
Cut the carrot and burdock into pyramid shapes by angling the knife.
Peel the lotus root, then slice into 1 cm thick rings. Place in a heat-resistant container, cover with cling film and heat for about 5 minutes. Heat the satoimo in the microwave for around 20 seconds, rub their skins off using a tea towel, then place in the microwave again and heat for a further 4 minutes.
Blanch the mange tout in salted water. Immerse in cold water and dry.
Heat the stock together with (1), (2) and (3) in a pan over a high heat. Once boiled, remove the scum from the surface and turn the heat down to medium. Place a pre-moistened drop lid directly on top of the ingredients. Simmer for about 10 minutes. When the vegetables are tender, remove from the heat.
Place into, a serving dish and add the mange tout from (4) and, if you like, Some yuzu peel, which is cut into thin matchsticks.