Appears in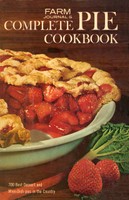 Method
Mix together in saucepan ⅔ to 1 c. sugar, depending on natural sweetness of fruit or berries, and 1 tblsp. cornstarch. Stir in 1 c. boiling water gradually. Bring to a boil and boil 1 minute.
Add prepared fresh fruit (include juice) and pour into a 10" X 6" X 2" baking dish or a 1½ qt. casserole. Dot with 1 tblsp. butter or margarine and sprinkle with ½ tsp. cinnamon or ¼ tsp. nutmeg.
Make soft dough this way: Sift together 1 c. sifted flour, 1 tblsp. sugar, 1½ tsp. baking powder and ½ tsp. salt. Blend in ¼ c. shortening until mixture resembles cornmeal. Stir in ½ c. milk to make a soft dough.
Drop spoonfuls of dough over hot fruit filling. Bake in hot oven (400°F.) about 30 minutes. Serve in bowls with cobbler juices and cream.