Appears in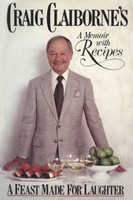 Ingredients
8 large eggs
1 pound ground lean pork
¾ cup fresh fine bread crumbs, preferably made from untrimmed English muffins
Salt and freshly ground pepper to taste
1½ teaspoons crushed dried marjoram
1 tablespoon chopped fresh parsley
2 tablespoons heavy cream
Flour for dredging
¾ cup fresh fine bread crumbs, made from trimmed day-old sandwich bread
Fat for deep frying
Method
Place 6 of the eggs in a saucepan and add lukewarm water to cover. Bring to the boil and simmer 12 to 15 minutes. Drain the eggs and run them immediately under cold water. Drain once more. Peel the eggs and set aside.
Combine the pork, bread crumbs made from English muffins, 1 raw lightly beaten egg, salt and pepper to taste, marjoram, parsley, and cream. Blend well with the hands.
Divide the pork mixture into 6 equal portions. Place 1 portion on a sheet of plastic wrap. Cover with another sheet of plastic wrap. Press down evenly and smooth the meat into a flat oval large enough to enclose 1 hard-cooked egg. Remove top sheet of plastic wrap.
Dredge the hard-cooked eggs in flour, shaking off excess. Place 1 egg in the center of the meat. Bring up the edges of the bottom sheet of plastic wrap so that the meat encloses the egg, pinching the seams together and pressing so that the egg is neatly and evenly enclosed. Remove the plastic wrap.
Continue until all the eggs are wrapped in the pork mixture.
Dredge the wrapped eggs once more in flour.
Break the remaining raw egg into a rimmed dish and beat lightly. Dip the flour-coated Scotch eggs in this, turning to coat evenly. Dredge the eggs in the fresh fine bread crumbs made from sandwich bread.
Heat the fat for frying in a deep skillet. Add the eggs and cook about 5 minutes, turning often until the meat is cooked and golden brown. Drain the eggs on paper toweling. Serve the eggs hot or lukewarm, sliced in half.