Appears in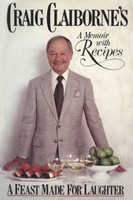 Ingredients
4 cups lobster sauce américaine, approximately
2 cups fish velouté, approximately
4 pounds striped bass fillets
2 tablespoons butter
4 tablespoons finely chopped shallots
Salt and freshly ground pepper
½ pound thinly sliced (about 4 cups) mushrooms
1 cup brut champagne
1 cup heavy cream
Juice of ½ lemon
Method
Prepare the lobster sauce américaine and the fish velouté.
Preheat the oven to 450 degrees.
While the velouté simmers, cut the fish into 8 equal portions.
Select a heatproof baking dish large enough to hold the fish in one layer. Grease the dish with half the butter. Sprinkle the shallots, salt, and pepper to taste over the bottom of the dish. Arrange the fish pieces over all and scatter the sliced mushrooms over the fish. Sprinkle lightly with salt and pepper. Sprinkle with champagne.
Cut a square or round of waxed paper to fit over the fish. Cover the fish with the waxed paper and bring to the boil on top of the stove. Place the dish in the oven. Bake 20 minutes.
Remove the waxed paper and carefully pour the cooking liquid into a saucepan. With a spoon, remove most of the mushroom slices from the baking dish and add them to the liquid. Cook over high heat until the cooking liquid is reduced to about 1 cup, about 12 minutes. Add the velouté and stir briskly with a wire whisk until well blended and smooth. Add the cream and lemon juice. Swirl in the remaining tablespoon of butter. Spoon the hot sauce over the fish. Spoon the lobster sauce around the fillets.