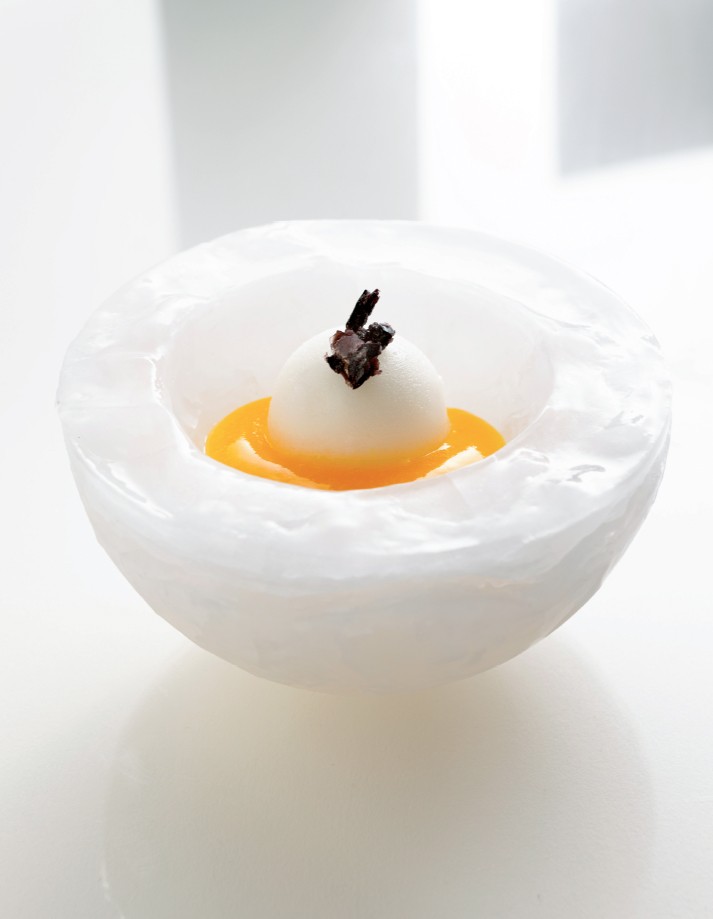 Ingredients
Components
300 g / 10.58 oz Verjus Sorbet Base
50 g / 1.76 oz verjus
600 g / 1 lb 5.16 oz Chilled Peach Soup Base
100 g / 3.52 oz sparkling water
50 g / 1.76 oz Crystallized Black Olives
Method
Assembly
Churn or pacotize the sorbet base. Transfer to a piping bag and portion into a 3.75-cm / 1.5-in diameter demi-sphere fleximold mat, smoothing out the top with an offset spatula. Make 20 demi-spheres and place in the freezer to harden.
Once hardened, fuse 2 sorbet demi-spheres together by rubbing the edges where they touch with your gloved hands.
Return to the freezer. Once hardened, transfer to an airtight container and reserve frozen.
Place 5 g / .18 oz of verjus (about 1 tsp) in a bowl and freeze.
Once the verjus has hardened, take the bowl out of the freezer and torch the verjus for 1 second to melt it slightly.
Place the sorbet sphere on top of the verjus. The sorbet should re-freeze the verjus, anchoring it down to the bowl.
Sprinkle about 5 g / .17 oz of the crystallized olives on top of the sorbet. Let sorbet temper for 3 to 5 minutes.
Just before serving, combine 60 g / 2.12 oz of the peach soup with 10 g / .35 oz of the sparkling water, preferably one with large bubbles, and serve. This step is crucial, because if the sparkling water is added too soon, it will lose its fizz. Pour the soup into a small carafe.
Serve immediately. The soup will be poured tableside. It should be poured down the side of the bowl, away from the sorbet and close to the base of the bowl to avoid splatter.