Preparation info
Makes

6

Main-Course Servings
Appears in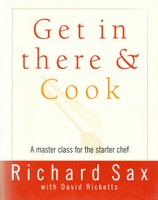 Ingredients
2 tablespoons olive oil
3 medium-large onions, peeled, halved, and sliced
2 leeks, trimmed, halved lengthwise, thickly sliced crosswise, and washed well (Leek Cleaning)
3 carrots, trimmed, peeled, and sliced ¼ inch thick
3 large garlic cloves, sliced
1½ teaspoons salt
½ teaspoon fresh thyme leaves or ⅛ teaspoon dried
⅛ teaspoon dried red pepper flakes
pinch of dried tarragon
4 potatoes, peeled, quartered lengthwise, and sliced crosswise ¼ inch thick
2 cans (about 14 ounces each) chicken broth, preferably reduced-sodium
3 cups cold water
¾ cup low-fat or whole milk, or more as needed
⅛ teaspoon freshly grated nutmeg
freshly ground black pepper, to taste
1 or 2 tablespoons cold unsalted butter (optional)
Chopped fresh parsley, for serving
Method
Heat the oil in a large pot or casserole over medium heat. Add the onions, leeks, carrots, garlic, salt, thyme, pepper flakes, and tarragon. Reduce the heat to low; cover and cook slowly or sweat, stirring occasionally, until the vegetables begin to soften and release some of their moisture, about 10 minutes.
Stir in the potatoes, broth, and water. Cover and bring to a boil; skim off the foam with a skimmer or large metal spoon. Lower the heat; boil gently, partially covered, until the vegetables are quite tender, about 45 minutes.
3. Remove half of the vegetables with a slotted spoon to a food processor; puree. If using a blender, work in smaller batches. Scrape the puree back into the soup, stirring to combine. Stir in the milk, nutmeg, and pepper; return nearly to a simmer over very low heat. Thin with more milk, if desired. Taste and correct the seasonings, adding more salt, herbs, and spices, if needed. If you like, remove the pan from the heat and swirl in the butter just over the surface of the soup. The butter should remain creamy and not melt into a puddle of fat. Serve hot, sprinkled with a little chopped parsley.