Preparation info
Makes

2

Main-Course Servings
Appears in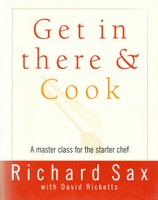 Ingredients
Salt, to taste
2½ tablespoons olive oil
1 garlic clove, smashed and peeled but left whole
2½ to 3 cups (6 to 8 ounces) white mushrooms (Mushroom Basics), halved and thickly sliced
freshly ground black pepper, to taste
¾ cup frozen peas (right from the freezer)
½ cup slivered good-quality country ham (or use prosciutto)
½ pound dried orecchiette, fusilli, or cavatelli (or other short pasta)
⅓ cup freshly grated Parmesan cheese, plus more for serving
Method
Bring a large pot of water to a boil for the pasta. Add a little salt.
Meanwhile, heat 2 tablespoons of the olive oil with the garlic in a large skillet over medium heat. Let the garlic sizzle until golden, 1 to 2 minutes. Then, discard it. Raise the heat to medium-high.
Add the mushrooms to the skillet; sprinkle with salt and pepper to taste. Let them sit and sizzle for 1 to 2 minutes as they begin to release their liquid. Then begin to toss the mushrooms frequently with a wooden spoon until they wilt and begin to brown, 3 or 4 minutes. Break up the frozen peas and scatter them in with the mushrooms. Sauté, tossing constantly, until the peas are heated through, about 3 minutes. Add the ham and toss for 1 minute longer.
Add the pasta to the boiling water and boil until al dente, firm but tender. With a mug, carefully remove about 1 cup of the pasta cooking liquid and set it aside. Drain the pasta well; return it to its pot and place over medium-low heat. Add the mushroom mixture, the remaining ½ tablespoon olive oil, the Parmesan cheese, and ⅓ cup of the reserved pasta cooking water. Sprinkle with pepper and toss gently with 2 large spoons until the ingredients are well combined. Add a little more liquid if the mixture doesn't seem nicely moist.
Serve immediately, passing more Parmesan and a pepper mill at the table.