Preparation info
Makes

4

Main-Course Servings
Appears in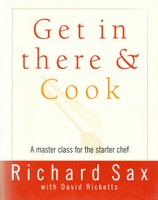 Ingredients
Salt, to taste
1 tablespoon olive oil
1 red onion, cut into slivers
1 medium red (bell) pepper, cored, seeded (Bell Pepper Basics), and cut into slivers
1 small yellow bell pepper, cored, seeded, and cut into slivers
Pinch of dried red pepper flakes
2 scallions (white and green portions), trimmed and sliced
2 garlic cloves, thinly sliced
3 large (or 4 medium) ripe tomatoes, peeled, cored, seeded (Tomato Basics), and cut into ¾-inch dice
3 tablespoons chopped fresh basil or parsley
1 pound dried rigatoni or penne
⅔ cup ¼-inch diced Italian fontina or mozzarella cheese
freshly ground black pepper, to taste
⅓ cup freshly grated Parmesan cheese
Method
Bring a large pot of water to a boil for the pasta. Add a little salt.
Meanwhile, heat the oil in a nonreactive large nonstick skillet over medium-high heat. Add the onion, red and yellow bell peppers, pepper flakes, and a sprinkling of salt. Cover and sweat (or cook) for 3 minutes. Uncover and cook, tossing with a wooden spoon, until the vegetables are crisp-tender, about 2 minutes longer. Add the scallions and garlic; cook, stirring, until the scallions soften, 1 or 2 minutes longer. Transfer the vegetables to a plate.
Add the tomatoes and about half of the basil to the skillet. Sprinkle with salt and cook, tossing, until the tomatoes break down slightly and soften, usually 4 or 5 minutes.
Meanwhile, add the pasta to the boiling water; cook until al dente, firm but tender, usually 8 to 10 minutes. With a mug, carefully scoop out about ½ cup of the pasta cooking liquid (page 71). Drain the pasta. Return it to its pot along with the vegetables, tomatoes, and enough of the reserved liquid to moisten the pasta and sauce slightly. Add the fontina or mozzarella and black pepper and toss just until the cheese begins to melt but is still in cubes. Serve immediately, sprinkled with the remaining basil, Parmesan cheese, and a few grinds of black pepper.