Appears in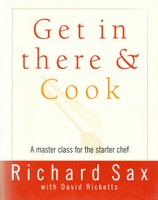 Ingredients
Marinade and Pork
¼ cup fresh orange juice
1½ tablespoons reduced-sodium soy sauce
1 teaspoon olive oil or vegetable oil
2 large garlic cloves, smashed
2 fresh rosemary sprigs or a small pinch of dried
freshly ground black pepper, to taste
1 to 1¼ pounds pork tenderloins (usually 2 pieces), scrupulously trimmed of all surface fat
Method
To make the marinade: In a sealable plastic bag, combine the orange juice, soy sauce, oil, garlic, rosemary, and pepper. Add the pork and seal the bag. Turn the bag around to coat the pork thoroughly. Refrigerate for at least 1 hour.
To make the warm bean compote: Heat the oil in a nonreactive medium skillet, preferably nonstick. Add the bell peppers and sauté, stirring occasionally with a wooden spoon until softened, usually about 6 minutes. Add the garlic and sauté for 1 minute. Transfer to a bowl and add the drained cooked beans, onion, scallion, tomato, roasted garlic, lemon juice, vinegar, and pepper and salt if needed. Toss gently with a rubber spatula to combine all of the ingredients; set aside at cool room temperature (or refrigerate).
Remove the pork from the marinade, reserving the marinade. Pat the pork dry with paper towels.
To roast: Preheat the oven to 375°F. Heat a ridged stove-top grill over high heat (or a nonstick skillet over medium-high heat). Oil the ridged grill or skillet very lightly. Sear the pork tenderloins on all sides, turning 2 or 3 times, until browned all over, 4 to 5 minutes (it will not be cooked through). Transfer the tenderloins to a roasting pan or shallow baking dish and roast in the oven, basting occasionally with the reserved marinade, until just cooked through but still very juicy, usually 20 to 25 minutes. (The timing can vary based on the thickness of the tenderloins. Do not overcook.) Remove the pork to a cutting board and let rest for 5 minutes.
To cook on a charcoal or gas grill: Preheat the grill or charcoals until hot. Oil the grill rack very lightly. Grill the pork, turning frequently with tongs and basting occasionally with the reserved marinade, until golden brown on all sides and no longer pink in the center, 20 to 25 minutes. (The pork should be firm in the center but not too springy when cooked through, and it should still be very juicy.) Remove the pork to a cutting board and let rest for 5 minutes.
While the pork is resting, place the bean-pepper compote in a saucepan over medium heat. Cook, stirring with a wooden spoon, until warmed through but not hot. Stir in the parsley and olive oil plus a little more lemon juice and freshly ground pepper. Taste and correct all of the seasonings, if needed.
To serve, slice the pork diagonally about ¼ inch thick. Arrange several slices of pork on each warm serving plate, overlapping the slices slightly in a curved pattern. Spoon the juices from the roasting pan over the pork. Spoon some of the bean compote next to the pork slices. Garnish the plates with rosemary sprigs and serve hot.