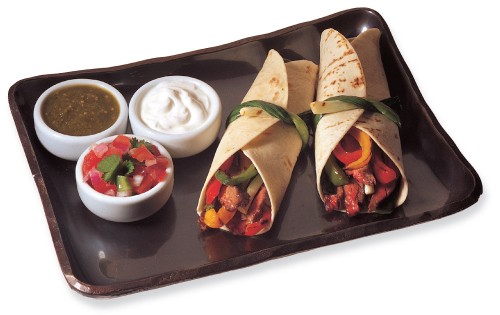 COOKING TIME: About 25 minutes for grilling both the vegetables and the beef
ADVANCE PREPARATION: 40 minutes to 1 hour for marinating the meat
Ingredients
For the Beef
1½ pounds skirt steaks
1 tablespoon pure chili powder
1 teaspoon ground coriander
1 teaspoon coarse salt
½ teaspoon ground cumin
½ teaspoon garlic powder
½ teaspoon onion powder
½ teaspoon black pepper
2 limes
For the Grilled Vegetables
3 poblano peppers or 1 green bell pepper
1 red (bell) pepper
1 yellow bell pepper
3 bunches scallions
For Serving
1 bunch chopped fresh cilantro leaves
3 jalapeño peppers, thinly sliced
1 avocado, peeled, diced, and tossed with lime juice
2 cups sour cream
2 cups Pico de Gallo
2 cups Salsa Verde
3 limes, cut into wedges
18 small (7-inch) flour tortillas
Method
Place the skirt steaks in a nonreactive baking dish in a single layer. Combine the chili powder, coriander, salt, cumin, garlic and onion powders, and black pepper in a small bowl and mix well. Sprinkle this mixture over the meat, patting it on with your fingertips. Let stand for 10 minutes. Squeeze the limes over the meat. Let marinate in the refrigerator for 30 minutes to 1 hour, covered.
Set up the grill for direct grilling ( for charcoal or for gas) and preheat to high.
Place the poblano and bell peppers on the hot grate and grill until charred on all sides, turning with tongs, 15 to 20 minutes. Transfer peppers to a cutting board, wrap in wet paper towels, and let cool. Meanwhile, grill the scallions until nicely browned, 3 to 5 minutes per side, turning with tongs.
Unwrap the peppers, pull off the burnt skin with your fingers (or scrape it off with a knife), cut the flesh off the core, scrape out the seeds, and cut into ¼-inch strips. Cut the scallions into 2-inch pieces or keep whole.

Arrange the pepper strips and scallions on a platter. Place the cilantro, jalapeños, avocado, sour cream, salsas, and lime wedges in attractive bowls.

Place the skirt steaks on the hot grate and grill until cooked to taste, 3 to 4 minutes per side for medium-rare. Use the poke test to test for doneness. Transfer the steaks to a cutting board and let rest for 3 minutes. Using a sharp knife, cut each steak in half crosswise and thinly slice across the grain, as shown in Steps 1 and 2. Arrange the sliced steaks on the platter with the grilled vegetables.
Place the tortillas on the hot grate and grill until soft and pliable, 15 seconds per side. Place them in a basket.
To serve, have each guest place sliced beef and grilled vegetables on a tortilla and spoon some of the cilantro, jalapeños, avocado, sour cream, and/or salsas on top. After a squeeze of lime juice is added, the tortilla can be rolled into a neat bundle for eating. Tying the tortilla with a whole grilled scallion makes an elegant touch.
© 2001 All rights reserved. Published by Workman Publishing.