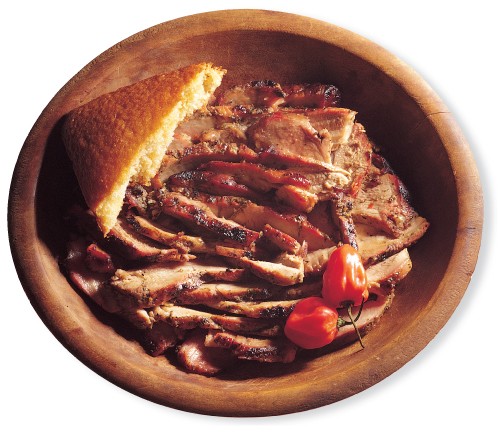 COOKING TIME: 30 to 40 minutes
ADVANCE PREPARATION: 6 to 12 hours for marinating the meat
Ingredients
6 to 12 Scotch bonnet chiles, stemmed and seeded
2 bunches scallions, trimmed and roughly chopped
1 small onion, roughly chopped
6 cloves garlic, peeled
½ cup chopped fresh cilantro leaves
½ cup chopped fresh flat-leaf parsley leaves
2 tablespoons coarsely chopped
peeled fresh ginger 1 tablespoon fresh thyme or 1½ teaspoons dried
1 tablespoon chopped fresh marjoram or 1½ teaspoons dried
2 teaspoons ground allspice
½ teaspoon black pepper
½ teaspoon freshly grated nutmeg
¼ teaspoon ground cinnamon
3 tablespoons lime juice
3 tablespoons soy sauce
3 tablespoons dark rum
3 tablespoons vegetable oil
2 tablespoons coarse salt
2 tablespoons distilled white vinegar
2 tablespoons brown sugar
1 fresh shoulder ham (5 to 7 pounds)
You'll Need
2 cups wood chips (preferably hickory or oak), plus 2 tablespoons allspice berries, soaked for 1 hour in cold water to cover, then drained; rubber gloves (optional)
Method
Prepare the jerk seasoning: Place the chiles, scallions, onion, garlic, cilantro, parsley, ginger, thyme, and marjoram in a food processor and finely chop. Add all the remaining ingredients, except the ham.
Butterfly the shoulder ham, as shown in Steps 1 through 4 or have your butcher do this for you. Using the tip of a paring knife, make tiny holes all over the pork on both sides, each about ½ inch deep and 2 inches apart. Place the pork in a large nonreactive baking dish.
Spread the jerk seasoning over the pork on both sides with a rubber spatula or with your hands, wearing rubber gloves, and stuff it into the knife holes. Let the pork marinate, covered, in the refrigerator for at least 6 hours or as long as overnight, turning it once or twice.
Set up the grill for direct grilling ( for charcoal or for gas) and preheat to medium. If using a gas grill, place all the wood chips and allspice berries in the smoker box or in a smoker pouch and preheat to high until you see smoke, then reduce the heat to medium.
When ready to cook, if using a charcoal grill, toss all the wood chips and allspice berries on the coals. Place the pork on the hot grate, skin side down, cover the grill, and cook until the meat is well-done, 15 to 20 minutes per side. To test for doneness, use an instant-read meat thermometer: The internal temperature should be about 190°F.
Transfer the pork to a cutting board and let rest for 5 minutes. Slice or chop it crosswise and serve at once. To be authentic, serve it on sheets of waxed paper.
Variation
You can cook the pork using the indirect method, in which case, preheat the grill to medium. You'll need to let it grill for about 1 hour, adding wood chips as you normally would for smoking. But move the pork directly over the flame for the last 10 minutes to sear the crust.
© 2001 All rights reserved. Published by Workman Publishing.