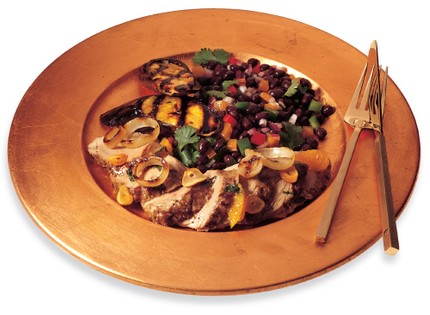 Ingredients
½ cup olive oil
8 large cloves garlic, thinly sliced crosswise
1 teaspoon ground cumin, or more to taste
⅓ cup lime juice
⅓ cup orange juice
1½ teaspoons coarse salt, or more to taste
½ teaspoon black pepper
½ teaspoon ground oregano
¼ cup chopped fresh cilantro or mint
2 to 3 pork tenderloins (1½ pounds total)
2 large sweet onions, cut into ½-inch-thick slices
1 navel orange, peeled and sectioned with membranes removed, for serving
Method
Prepare the mojo: Heat the oil in a deep saucepan over medium heat. Add the garlic and cumin and cook until the garlic is fragrant and a pale golden brown, 1 to 2 minutes. Do not let the garlic brown too much, or it will become bitter. Stir in the lime and orange juices, salt, pepper, and oregano and ⅓ cup water. Stand back: The sauce may sputter. Bring the sauce to a rolling boil. Taste for seasoning, adding salt or cumin as necessary. Let cool to room temperature, then stir in the cilantro.
Trim, fold, and tie the pork tenderloins, as shown in Preparing the Meat, Steps 1 through 5. Arrange the tenderloins in a nonreactive baking dish just large enough to hold them. Pour half the mojo over the pork and let marinate, covered, in the refrigerator for at least 3 hours, preferably overnight, turning to ensure even marinating. Refrigerate the remaining mojo to serve as a sauce.
Set up the grill for direct grilling ( for charcoal or for gas) and preheat to high.
When ready to cook, brush and oil the grill grate. Arrange the tenderloins on the grill. Brush the onion slices with any excess marinade, skewer them crosswise on skewers or toothpicks, and place on the grill. Grill the pork and onions until cooked to taste. The meat will take 3 to 4 minutes on each of its four sides, 12 to 16 minutes in all for medium. To test for doneness, insert an instant-read meat thermometer in the thickest part of the meat. The internal temperature should be about 160°F. Rotate the tenderloins 90 degrees after 2 minutes on each side to create an attractive crosshatch of grill marks. The onions should be nicely charred after 4 to 6 minutes per side.
Transfer the tenderloins to a cutting board and let rest for 3 minutes. Slice the tenderloins crosswise on the diagonal. Fan out the slices on plates or a platter and top with the unskewered grilled onions. Spoon the reserved mojo over them, garnish with the orange sections, and serve at once.