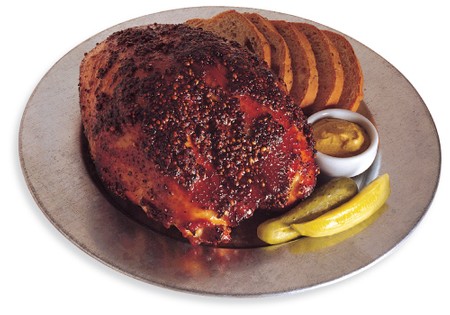 Ingredients
For the Rub and Turkey
3 tablespoons coriander seeds
3 tablespoons cracked black peppercorns
6 cloves garlic, minced
1½ teaspoons yellow mustard seeds
¼ cup coarse salt
¼ cup firmly packed brown sugar
¼ cup sweet paprika
1 tablespoon ground ginger
1 teaspoon ground mace (optional)
1 bone-in or boneless turkey breast (4 to 5 pounds)
Method
Make the rub: Coarsely crush the coriander seeds in a mortar with a pestle, in a spice mill or coffee grinder, or by wrapping them in a dish towel and crushing them with the edge of a heavy skillet. Combine the crushed seeds and the remaining rub ingredients in a mixing bowl and mix well with your fingers.
Rinse the turkey breast under cold running water, then drain and blot dry with paper towels. Using poultry shears, cut off the ribs, if necessary, as shown in Preparing the Turkey, Step 1, and discard or save them for stock. Sprinkle and pat the rub on the turkey as shown in Steps 2 and 3. Cover the breast with plastic wrap or place in a large resealable plastic bag (you will need to turn the bag 2 or 3 times during the curing process) and let cure in the refrigerator for 24 hours.
Set up the grill for indirect grilling (for charcoal or for gas) and preheat to medium-low. If using a charcoal grill, place a large drip pan in the center. If using a gas grill, place all the wood chips in the smoker box or in a smoker pouch and preheat on high until you see smoke, then reduce the heat to medium-low.
When ready to cook, brush and oil the grill grate. If using charcoal, toss 1 cup of wood chips on the coals. Brush the excess rub off the turkey with a paper towel. Place the breast in the center of the hot grate over the drip pan, away from the heat; cover the grill. Grill the breast until tender, 1½ to 2 hours (the cooking time will depend on the size of the breast and the heat of the grill). To test for doneness, use an instant-read meat thermometer. The internal temperature should be at least 170°F. If using a charcoal grill, you'll need to add 12 fresh coals and ½ cup wood chips per side after 1 hour.
Transfer the turkey pastrami to a platter and let cool to room temperature, then refrigerate until cold. To serve, cut the pastrami into thin slices across the grain. Serve on rye bread slathered with mustard.