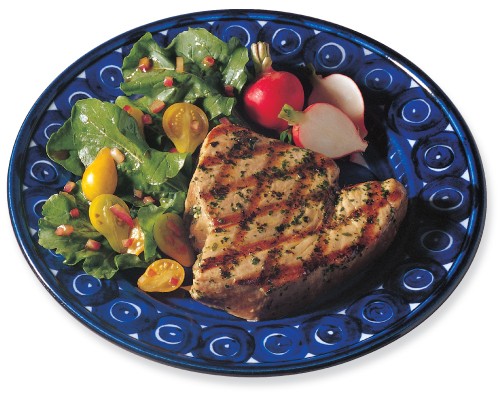 COOKING TIME: 4 to 12 minutes
ADVANCE PREPARATION: 30 minutes to 2 hours for marinating the fish
Ingredients
4 tuna steaks (¾ to 1 inch thick; 6 to 8 ounces each)
1 bunch fresh basil, washed and stemmed
4 cloves garlic, cut in half
3 strips lemon zest
Juice of 1 lemon (3 to 4 tablespoons)
1 tablespoon white wine vinegar
1 cup extra-virgin olive oil
1 teaspoon coarse salt
1 teaspoon black pepper
You'll Need
1 cup wood chips (optional; preferably oak), unsoaked
Method
Trim any skin or dark or bloody spots off the tuna. Rinse the tuna under cold running water and blot dry with paper towels. Arrange the steaks in a nonreactive baking dish.
Combine the basil, garlic, lemon zest, lemon juice, vinegar, oil, salt, and pepper in a food processor or blender and purée until smooth. Pour this mixture over the tuna and let marinate in the refrigerator, covered, for 30 minutes to 2 hours, turning the tuna steaks several times.
Set up the grill for direct grilling ( for charcoal or for gas) and preheat to high. If using a gas grill, place the wood chips, if desired, in the smoker box or in a smoker pouch and preheat until you see smoke. When ready to cook, brush and oil the grill grate. If using a charcoal grill, toss the wood chips, if desired, on the coals. Drain the tuna steaks and arrange on the grill. Grill until cooked to taste, 2 to 3 minutes per side for rare, 4 to 6 minutes per side for medium, rotating the steaks 45 degrees after 2 minutes to create an attractive crosshatch of grill marks. The steaks should be nicely browned on the outside. Test for doneness using the poke method: A rare steak will be quite soft, with just a little resistance at the surface; a medium-rare steak will be gently yielding; and a medium steak will be quite firm. Transfer the steaks to plates or a platter and let rest for 3 minutes, then serve with the arugula salad.
© 2001 All rights reserved. Published by Workman Publishing.