Appears in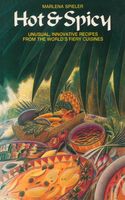 Ingredients
1 tablespoon curry powder
2 teaspoons fish sauce or light soy sauce
100
Method
Combine the curry powder, fish sauce or soy sauce, coconut milk, lime juice and hot pepper flakes.
Spread the mixture on to the fish and leave to marinate for at least an hour.
Wipe dry with absorbent paper. When ready to serve, grill briefly until just firm and cooked through.
Serve garnished with lime wedges and papaya slices.
<