To cook a live crab, bring a large pan of water to the boil, drop in the crab and boil until there is no movement; this will take about 2 minutes. Remove the crab and drain thoroughly.
Remove the tail-flap, push the body with legs still attached away from the shell (A) and remove the stomach sac and feathery gills from the crab (B). Using a heavy knife or cleaver, cut the crab, shell included, into large pieces.
Cut the lemon grass into 5-cm (2-in) segments. With the flat side of a large knife or cleaver, smash the lemon grass pieces to release their aromatic oils.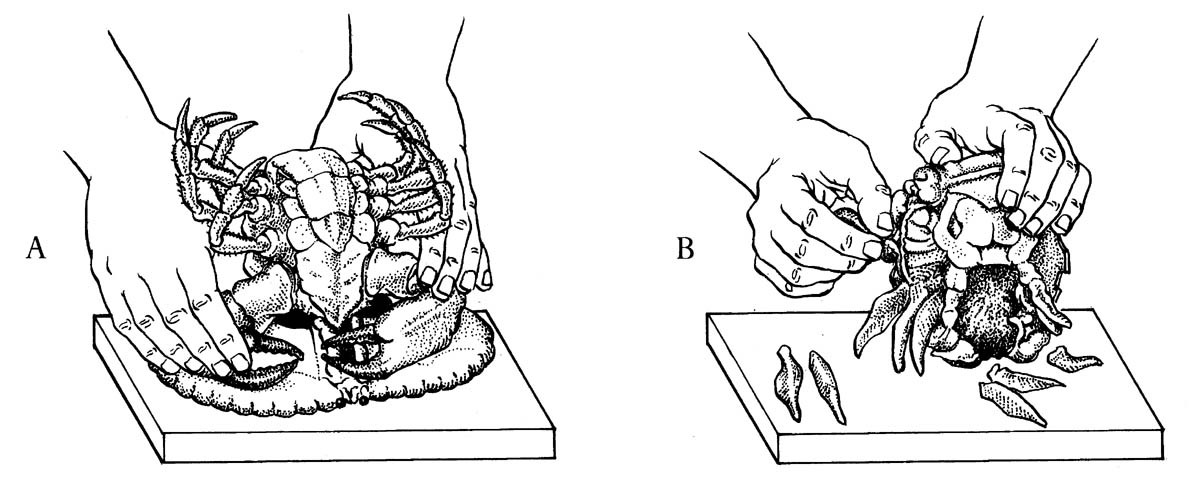 Heat a wok or large frying-pan over high heat until it is hot. Add the oil and, when it is very hot and slightly smoking, add the lemon grass pieces, garlic, ginger and onions or shallots and stir-fry for 1 minute. Add the spring onions and crab pieces and stir-fry for 2 minutes. Now add the remaining ingredients and continue to stir-fry the mixture over a high heat for about 2 minutes. Turn the heat to low, cover and simmer for 10 minutes. Turn the curry on to a large, warm serving platter and serve.