Appears in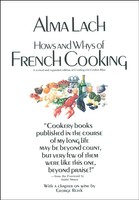 Ingredients
Chunk of butter, grated Parmesan or flour
⅛ pound butter
4 tablespoons flour
1 cup light cream
½ teaspoon salt
Dash of nutmeg
⅛ teaspoon white pepper
5 egg yolks
¼ cup Grated Parmesan cheese
6 egg whites
2 drops red food coloring
3 drops yellow food coloring
Method
Coat a 6-cup soufflé dish, or 6 individual 1-cup dishes, with butter, then sprinkle with Parmesan or flour. Melt ⅛ pound butter in a skillet and then stir in flour. Simmer a few minutes to cook the flour. Do not let it brown. Add cream (always use cold liquids and you'll have no lumps). Add salt, nutmeg, and pepper. (This is a basic Béchamel, only thicker.) Stir-cook until thick.
Remove from heat. Stir a bit of hot sauce into yolks. Mix well, then stir yolks into the sauce. Add cheese and mix. Cover with a lid and let sit until you are ready to finish the soufflé. To this point the soufflé can be made hours in advance.
When ready to finish soufflé, preheat oven to 400 degrees. Carefully heat the sauce mixture. Start stirring in the center, then, as it heats, gradually work your way to the sides, blending the whole and not breaking it into pieces. Heat to lukewarm, then remove from heat.
Beat the egg whites. (Read on beating whites.) When the large bubbles in the whites disappear, add the food colorings and then beat until stiff. Color whites to match the yellow sauce, otherwise whites dilute the color of the soufflé. Also, if uncolored whites are not completely blended into the sauce, they will show up as white patches in the baked soufflé.
With a whisk stir about a cup of the whites into the sauce. Mix into the custard just as if they weren't beaten whites. This will lighten the custard and make easier the folding in of the balance of the whites. Use a rubber spatula and fold the remaining whites into the custard.
Once the soufflé is mixed, pour into prepared dish, filling full, then level off with a spatula. With your thumb push the mixture away from the sides. Put into a preheated 400-degree oven. Bake 10 minutes, then increase the heat to 425 degrees. Bake about 15 minutes longer for a large soufflé. For small individual soufflés bake a total of about 12 minutes at 425 degrees. Serve immediately to 4 if it is a large soufflé, or to 6 if individual ones. The large-size soufflé breaks down when cut, so it will not adequately serve 6. The individual soufflés remain puffed and seem like more.
,