Appears in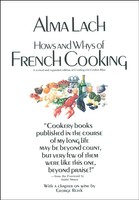 Ingredients
2 carrots, diced
1 branch celery, diced
2 onions, sliced
⅛ pound butter
1 (3–4-pound)fish, cleaned, head and tail removed
1½ cups white wine
1 cup chicken stock
Chunk of butter
4 tablespoons flour
Salt and pepper to taste
2 tablespoons sherry
3 tablespoons crème fraîche or whipping cream
Garnishings of parsley and lemon
Method
Put vegetables and ⅛ pound butter in bottom of poissonière, or cooking pan. Sauté vegetables 5 minutes. Lay fish on rack, or in foil hammock. Set on top the vegetables. Add liquids, bring to a boil, then reduce to a simmer. Set lid askew so liquids can evaporate some. Cook about 40 minutes for large fish. Small whole fish and steaks cook in about 10 minutes. The head and tail are normally removed on braised fish since they would make the sauce too strong in flavor.
When done, lift out fish and place on hot platter. Set platter in a warm oven. Put chunk of butter into a skillet. Melt, then add flour and stir-cook for about 2 minutes. Strain cooking liquids, about 2 cups, into the skillet. Stir-cook until thickened. Season, add sherry and crème. Taste. Adjust seasonings and thickness of sauce with beurre manié). Heat, but do not boil. Serve sauce in separate dish.
Decorate fish platter with nosegay of parsley at the head, and place serrated lemon halves around the fish, with more parsley. If you have a truffle in the freezer, mince it; skin the top side of the fish and sprinkle it with truffle.
Wine
Château Haut-Brion Blanc
,