Preparation info
Serve immediately,

2

per person
Appears in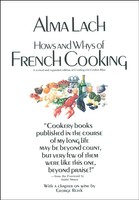 Ingredients
¼ cup milk
¼ cup water
½ teaspoon salt
2 tablespoons butter
½ cup flour
1 egg
½ pound skinned and deboned pike meat (takes about ¾ pound of fillets)
½ pound butter, approximately
1 large egg
2 yolks, maybe 3
½ teaspoon salt
White pepper to season
Dash nutmeg
Salted water
Method
Combine milk, water, ½ teaspoon salt, and 2 tablespoons butter in a saucepan. Bring to a boil. Remove from heat. Add the flour all at once and mix into a heavy dough. Add 1 egg and beat until it is incorporated into the dough. Pour this dough into a shallow dish, cover with buttered, transparent wrap. Cool and refrigerate.
The dough weighs about ½ pound, check it if you question its weight because the dough, pike meat, and butter should be about equal in weight, not measure. Skin the pike and be sure all bones are out of the fillets. Weigh the fillets once they are skinned—they will be about ½ pound. Cut fillets into pieces. Place in blender container. Whirl to grind, or put the pike through fine blade of a food chopper. When dough, or panade, is cold put the dough into a mixing bowl. Add the ground pike and blend together.
Have the butter cool and creamed. Gradually add the butter to the pike mixture and blend each addition of butter before adding the next one. If using a blender, keep the mixture pulled away from the sides with a rubber spatula or it will not blend. After 1½ sticks of butter have been added, proceed with caution. The mixture will absorb just so much butter. The quality of the dough should be stiff and the butter an amalgamated part and not separated, or curdled. It is better to add too little butter than to add too much. Absorption is sudden.
Add the egg and blend. Add one yolk at a time and blend. The mixture may be perfect after two yolks; you can tell by the thickness of the dough. Size of the yolks is a determining factor. If, however, 2 yolks are added and the dough seems too heavy, add an egg white. Season with ½ teaspoon salt, pepper, and nutmeg. Blend. Pour into a shallow 6 × 8-inch buttered pan, cover with a buttered piece of foil, and refrigerate overnight. Make Nantua sauce before poaching quenelles.
Next day cut mixture into 12 pieces. Roll each piece on a lightly floured surface, shaping it into a cylinder, or what we call quenelle shape. Preheat oven to 350 degrees.
Butter a very large skillet. Lay quenelles into skillet as they are shaped. Have water boiling. When all quenelles are in skillet, carefully pour boiling water down the side of the pan. Completely cover with water and add 1 teaspoon of salt for each quart of water (guess at the amount). Poach quenelles 10 minutes and do not cover on this first cooking. Heat the Nantua sauce.
Butter a baking dish large enough to hold the quenelles in a single layer. Spoon the Nantua sauce over them. Cover tight with a sheet of foil and place in the oven. Bake for 20 minutes. These quenelles will inflate as they cook. Do not remove the foil until the quenelles are done or they will fall. Serve immediately, 2 per person.
,