Appears in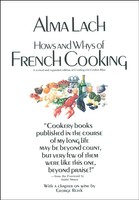 Ingredients
1 clove garlic
½ teaspoon salt
Freshly ground pepper
1 teaspoon Dijon-type mustard
1½ tablespoons wine vinegar
6 tablespoons olive oil
½ teaspoon chervil
Dash sugar
Watercress
Method
Mash garlic in salad bowl with the spoon. Add salt, pepper, and mustard. Mash to a pulp. Add vinegar, oil, chervil, and sugar. Mix well. Taste and adjust.
Wash the watercress the day before, break off the tough stems and wrap the watercress in paper towels to dry. Refrigerate until ready to use. It will take a lot of watercress to serve 6. Since the size of a bunch of watercress varies, you will have to judge the amount to purchase. The dressing is for 6.
Add watercress at the moment of serving, toss, and serve.
,