Appears in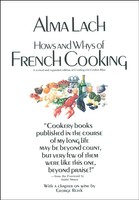 Ingredients
2 hard-cooked egg yolks
1 cup flour
¼ cup sugar
1 teaspoon grated orange rind
¼ pound butter, softened
¼ teaspoon salt
Method
Cook eggs and cool. Preheat oven to450 degrees. Put flour in mixer bowl. Add sugar, rind, butter and salt. Sieve the yolks into these ingredients. Mix into a dough. Chill dough 1 hour.
Sprinkle work area with flour. Place dough on flour and sprinkle top of dough with more flour. Roll dough ⅛ inch thick. Cut into 4-inch cookies with a fluted cutter. Score cookies in criss-cross lines with a fork dipped first into flour. Cut cookies into fourths.
Moisten a cooky sheet with water (use plastic spray bottle if you have one). Lift cookies off work area with a spatula and place on damp cooky sheet. Bake about 8 minutes on middle shelf of oven, or until lightly browned. Remove from cooky sheet and place on wire racks to cool. Makes about 24 cookies.
,