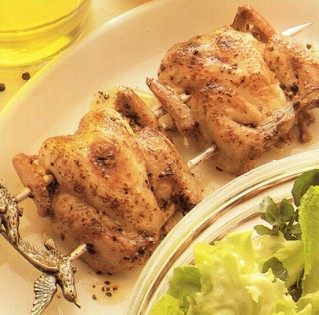 Ingredients
8 quail, giblets removed
½cup/125 ml olive oil
3 tbsp/45 ml lemon juice
1 tsp crushed peppercorns
½-1 tsp crushed dried red pepper (optional)
salt
16 long skewers
Method
Spatchcock the quail and thread each one on to two skewers, inserting the skewers through the wings and legs to hold the birds flat.
Whisk together the olive oil, lemon juice, peppercorns, and red pepper if using. Put the quail on a tray, pour over the marinade and brush the birds to coat thoroughly. Cover and leave to marinate at room temperature for up to 3 hours, turning occasionally.
Light the barbecue or broiler. Sprinkle the quail with a little salt and barbecue or broil the birds 2-3 in/5-7 cm from the heat for 5-6 minutes, until brown and slightly charred. Turn and brown on the other side. The quail should be pink and juicy in the center.
Remove the skewers and, if serving as a first course, cut the quail in half. Serve them very hot.