Appears in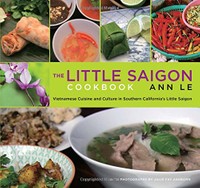 Ingredients
6 cups unsalted chicken broth (purchased or homemade)
5 tablespoons fish sauce
2 thick slices fresh ginger
2 stalks fresh lemongrass, cut into 4-inch lengths
½ tablespoon sugar
1 tablespoon salt
1 tablespoon ground black pepper
4 cups uncooked jasmine rice
½ pound lean ground beef
2 scallions, chopped into rings
⅓ cup chopped fresh cilantro leaves
1 cup fresh mung bean sprouts
½ yellow onion, finely sliced into rings with mandoline
2 red Thai bird chiles, finely chopped
Method
Warm the chicken broth in a large stockpot over medium heat. Add the fish sauce, ginger, lemongrass, sugar, salt, and pepper. Stir until the sugar and salt are dissolved. Add the uncooked rice and cover. Cook over low heat for about 35 minutes or until the rice is completely done. The consistency should be similar to that of porridge and a little watery.
Remove the lemongrass and ginger and continue simmering. Add the ground beef to the pot and stir well to mix the bits of meat through the porridge. Cook over low heat for another 1 to 1½ hours, or until the rice is almost translucent. The porridge should be very watery.
Serve very hot in individual bowls, topped with some chopped scallions, chopped cilantro, bean sprouts, and thinly sliced onion rings. Or you can arrange these garnish items on a separate plate, with the chopped Thai bird chiles, and allow your guests to garnish their own rice porridge.