Appears in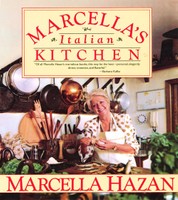 Ingredients
12 littleneck clams
All the other ingredients in the recipe for Risotto with Squid and Shrimp
Method
Wash the clams in several changes of cold water, rubbing them vigorously one against the other or scrubbing them with a stiff brush.
Put the clams in a broad pot with 1 cup of water, cover the pot, and turn on the heat to high. When all the shells have opened, remove the clams from the pot, detach the meat from each shell, and swish it in the juices of the pot without plunging it in too deep, skimming the surface of the liquid. Place the clam meat on a cutting board and, when you have done all the clams, chop them into 2 or 3 pieces each.
Line a strainer with a paper towel and through it filter the clam juice from the pot, putting it into a bowl just large enough to contain the clam meat. Put the clam meat into the bowl and set aside.
Prepare the shrimp as described in steps 1 and 2 of the preceding recipe and set aside.
Follow the basic recipe through step 8.
When the rice has been well coated with the squid base, add just the clam juice from the bowl, holding back the clam meat. Add a ladleful of simmering water and continue making the risotto as directed in the basic recipe.
When the rice has cooked for about 15 minutes, add the finely chopped portion of shrimp, salt, and liberal grindings of pepper. Stir the rice constantly, adding a ladleful of simmering water when needed, When the rice is about 5 minutes from being done, add the larger pieces of shrimp and hot pepper to taste. After stirring for another 2 or 3 minutes, add the clam meat. Continue stirring, cooking the rice until it is firm, but cooked all the way through. Its finished consistency should be faintly runny.
Remove the pot from the heat, stir in the olive oil and parsley, transfer to a serving platter, and bring to the table at once.