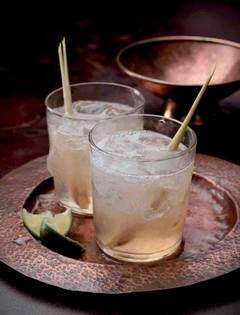 Appears in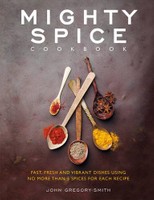 Ingredients
4 lemongrass stalks
250 g/9 oz/heaped 1 cup caster sugar
1 cm/½ in piece root ginger, peeled
100 ml/3½ fl oz/⅓ cup light rum
juice of 2 limes
tonic water, for topping up
Method
Cut off the ends of the lemongrass stalks and bash the fatter ends of the lemongrass a couple of times with a heavy spoon to help release their delicious flavour. Put the lemongrass in a saucepan with the sugar and 185 ml/6 fl oz/¾ cup water and bring to the boil. Turn the heat down to low and simmer, shaking the pan occasionally, for 4–5 minutes, or until all the sugar has dissolved. Remove from the heat and set aside to cool. You will end up with more sugar syrup than you need for four drinks, but it's important to cover the lemongrass stalks with enough water so you get the maximum flavour from them. The extra syrup will keep for a few days in the refrigerator.
Grate the ginger into a cocktail shaker, discarding any fibrous bits. Pour in the rum, juice from 1 of the limes, 55 ml/1¾ fl oz/scant ¼ cup of the cooled lemongrass sugar syrup, then add the lemongrass stalks from the syrup and a handful of ice. Shake vigorously until the ingredients are well combined.
Divide the cocktail into four ice-filled rocks glasses, top up each glass with tonic water and serve with a lemongrass stalk from the shaker to use as a stirrer.
Squeeze the juice from the remaining lime into the four glasses and stir in with the lemongrass stalks. Serve immediately.