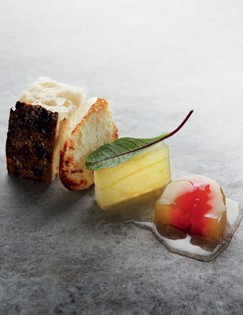 Appears in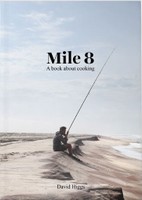 Rust en Vrede / Hangar 7
We took this preserve with us to Hangar 7 and served it with foie gras. This combination, with Pepe's goat's milk cheese, is just as good.
Ingredients
Pepe's buche goat's cheese
320 g Pepe's goat's milk cheese – or other goat's milk cheese
White watermelon skin
200 g watermelon rind
3 litres cold water
15 ml slaked lime
250 g sugar
250 ml water
1 lemon – the juice
Watermelon preserve
200 g watermelon rind
6 g salt
6 g citric acid
700 ml water
900 g sugar
8 squares Evan's focaccia bread – 1 per serving – toasted
8 small sorrel leaves – 1 per serving
Method
Slice the cheese and either grill in a dry nonstick pan or over medium-heat coals. Serve immediately. Use 40 g per serving.
Peel the watermelon and discard the green outer skin. Remove the pink flesh so that only the white part of the rind remains. Soak the rind in the water and slaked lime overnight. Rinse very well the next day with cold water. Cut the rind into eight 5 × 3cm pieces.
Make a syrup with the sugar, water and lemon juice. Add the watermelon skin to the sugar syrup. Cover with a cartouche (greaseproof parchment) and simmer over low heat until the watermelon skins become clear. Once cool, store in an airtight container in the fridge.
Peel the watermelon and discard the green outer skin. Remove three-quarters of the pink flesh, leaving a small part left on the white part of the rind. Slice into 3cm-wide pieces. In a heavy-based pot, bring all the ingredients to the boil, making sure that the sugar is dissolved. Put the watermelon rind pieces in the syrup and cover with a cartouche. Simmer on low heat until the white rind pieces become clear. When clear, remove from the heat and leave to cool. Transfer to an airtight container and store in the fridge.
To assemble, serve the cheese hot with the bread and preserves and garnish each plate with a sorrel leaf.
Soon after my time spent at Ikarus, I left the Cape, and Rust en Vrede, and headed north to Johannesburg. At the time, I think my decision took people by surprise. Many people questioned why I would leave Rust en Vrede in the same year as I had just won Eat Out's Chef of the Year award, and Rust en Vrede had won both Restaurant of the Year, and the Service Award.
As far as the awards go, the recognition is definitely appreciated, but winning awards has never been my aim. I have never chased goals in my career. I have put my head down and worked hard. I think, because of that, good things have happened.
I think the decision to move to Joburg was sort of intuitive, and maybe a bit impulsive. I felt like it was time for me to move on but I wasn't sure what I wanted to do. When Herman Coertze called me for the fourth time to ask me to come to Joburg and have a look at what he wanted to offer me, I felt that the time was right, and I accepted his invitation.
I landed in the City of Gold, got on the newly launched Gautrain, and I was in the middle of Sandton at the Radisson Blu within minutes. There was a pool party with four or five hundred people there. It was beautifully integrated, and there was a great energy. It was contagious. It felt as if anything was possible and opportunities were endless. At that moment, I fell in love with the city. I understood then that South Africa's future was alive in Johannesburg. I had to be a part of that.
The interesting thing about joining the Radisson was the sense that I had come full circle. I was back in the hotel industry, where my career started. I've always had the idea of bringing the restaurant mentality into the hotel environment. If something is not working, fix it. Build relationships with your guests by knowing who they are and making sure they are well looked after.
I've been in Joburg for a few years now, and that optimism I felt on that day in Sandton is very much alive and well. It is a thriving, energising, fascinating city. It inspires me to do more than just cook.
One of the first things that I do when I have friends visit, or anyone who is new to the city, is to take them into the heart of the CBD to show them what this city is all about.
My first stop is always the Constitutional Court, which was introduced to me by my friend Cara Shahim. It's so special. It's where our Constitution is upheld, where 11 judges sit and fight for our rights. It's where the buck stops. The light at the end of the tunnel. I had the opportunity to watch Chief Justice Mogoeng Mogoeng in action, which was such a privilege. He doesn't take shit from anyone. For me, as a South African who wants to live here for the rest of my life, it is something that I would like everyone to witness. Over and above that, it's an architectural masterpiece.
© 2018 All rights reserved. Published by Marble Restaurant Group.