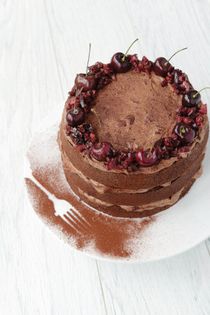 Appears in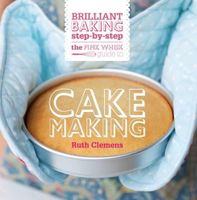 Ingredients
Cake
8 eggs
250 g (9 oz) caster (superfine) sugar
100 g (3½ oz) butter, melted and cooled
120 g (4 oz) plain (all-purpose) flour
80 g (3 oz) cocoa powder
100 g (3½ oz) cherries, pitted and chopped
Method
Follow the method for the Summer Fruit Genoise but replace the 200 g (7 oz) plain (all-purpose) flour with a mixture of 120 g (¾ oz) plain (all-purpose) flour and 80 g (3 oz) cocoa powder, sifted together. Fold the chopped cherries into a third of the mixture – this is for the middle layer.
For the cream filling softly whip the double cream with the icing sugar. Melt 75 g (2¾ oz) of dark chocolate and set aside to cool a little before stirring through the whipped cream. Set aside 8 whole cherries and roughly chop the remainder.
Reserve 100 g (3½ oz) of the chopped cherries and fold the remaining through the chocolate cream. Assemble the cakes with the cherry studded cake in the middle, applying the cream filling between each.
Spread the remaining cream on top of the cake and dust with cocoa. Position the 8 whole cherries around the edge and sprinkle on the reserved roughly chopped cherries. A sprinkle of gold edible glitter is optional but adds a lovely touch of sparkle! Serve.