Preparation info
Yield:

one

9 inch pie shell
Appears in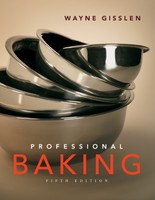 Ingredient
U.S.
Metric
Graham cracker crumbs
4.5
oz
125
g
Raspberry jam
2
oz
55
g
Method
Procedure
In a food processor or a mixer with the paddle attachment, mix together the crumbs and jam until evenly blended and crumbly.
Spray the inside of a 9-in. (23 cm) pie tin with nonstick spray.
Put the crumbs in the pie tin. Pack them evenly against the bottom and sides of the tin. The mixture is sticky, so you may want to use a disposable glove. Alternatively, use the back of a kitchen spoon and dip it in sugar as needed to keep the crumbs from sticking to it.)
Bake at 350°F (175°C) for 10 minutes.
Cool thoroughly before filling.