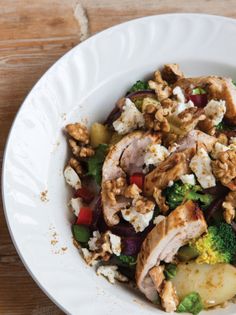 Appears in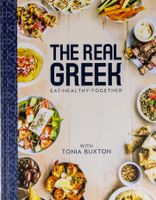 Ingredients
2 skinless, boneless chicken thighs (approx. 250 g total weight)
4 tbsp. Greek olive oil
Juice of 1 lemon
A large pinch of dried chilli flakes
300 g salad potatoes e.g.. Charlotte, halved
1 head of broccoli, cut into florets
1 medium onion, cut into chunks
1 red pepper, deseeded and chopped
1 tbsp. freshly torn basil
50 g walnuts, coarsely chopped
50 g feta cheese
A large pinch of ground fennel
Sea salt and freshly ground black pepper, to taste
Method
In a small dish, toss together the chicken thighs with 2 tbsp. olive oil, half the lemon juice, the chilli flakes with a little salt and pepper, to taste. Cover and marinate in a cool place for 30 minutes or so.
Meanwhile, boil the potatoes until just tender, adding the broccoli 5 minutes before the potatoes are done. Tip the vegetables into a colander and refresh under cold running water. Drain thoroughly and tip into a large bowl. Set aside.
Heat 1 tbsp. oil in a frying pan and cook the onions until just softened. Add to the vegetables together with the red pepper, basil and walnuts.
Drain the chicken from its marinade and fry (or griddle), turning halfway through cooking, for 10–12 minutes, or until golden and cooked through, with all juices running clear. Cut into thick slices.
Now toss the warm chicken in with the vegetables. Add any remaining lemon juice and olive oil (including juices from the hot pan), walnuts and seasoning to taste.
Divide between 2 plates, crumble on the feta and finish with a sprinkling of ground fennel. Enjoy!