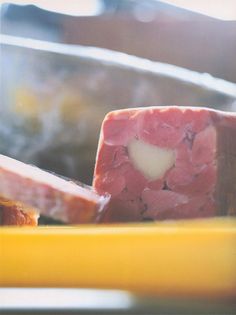 Appears in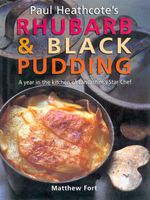 Ingredients
6 ham hocks
1 onion
2 carrots
2 sprigs of thyme
225 g / 8 oz parsley, stalks removed and reserved and leaves chopped
6 black peppercorns
900 g / 2 lb leeks, green parts split lengthwise but kept whole at root end
900 g / 2 lb carrots, kept whole but pared with a cannelle knife into flower shape at the tops
900 g / 2 lb small new potatoes
2 leaves of gelatine
Method
Make the terrine at least the day before you plan to serve it: place the ham hocks in a large pan, cover with water and bring to the boil. Lift the ham out the pan, discard the water and replace the ham in the pan. Cover with fresh water, add the onion and the carrots with the thyme, parsley stalks and peppercorns, and bring back to the boil. Skim off the scum and simmer until the small bone of the ham hock can be easily removed. Take the hocks out of the liquor and allow to cool.
Pass the ham stock through a fine sieve, return it to the pan and bring it back to the boil. Check the stock is not too salty, adding some more water if it is. Cook the leeks, carrots and potatoes separately in it until each vegetable is just tender, then drain well. Roll the potatoes in the chopped parsley.
Flake all the meat off the ham hocks, discarding any tough sinew, and set side.
Taste the ham stock and reduce it down to concentrate it slightly if it is not too salty. Measure out 1.25 litres / 2 pints into a bowl and add the soft leaf gelatine to the warm stock.
Line the base and sides of a 30 x 10 x 10 cm/12 x 4 x 4-inch terrine mould thickly with a layer of ham, then pack in the vegetables in layers, but ensuring that there is always ham between the vegetables and the mould. Pour over the ham jelly, cover the top with film and a suitable tray or sheet and weight, then refrigerate for at least 24 hours.
Make the mustard dressing: using a whisk, mix all the ingredients together with 2 teaspoons of water (add a touch more water if the dressing is too thick).
Make the Potato Salad: cook the unpeeled potatoes until just tender and drain well. While they are cooling, make the mayonnaise as described on page 207. When the potatoes are just cool enough to handle, slice them thinly into a bowl. Add the shallot and chives, with enough mayonnaise to coat and bind the ingredients together well. Season to taste and mix well.
Serve the terrine cut into slices about 1.5 cm / ⅝ inch thick, with the mustard vinaigrette spooned around it and with some potato salad and green salad leaves.