Appears in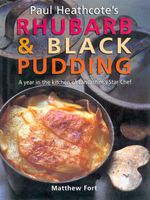 Ingredients
350 g / 12 oz cod fillets
450 g / 1 lb rock salt
4 stalks of celery, trimmed, strings removed and cut into 5-cm / 2-inch lengths
125 g / 4½ oz fresh peas
8 baby carrots
1 spring cabbage
2 tbsp oil
knob of butter
Method
Using the back of a knife and going from tail to head, remove all the scales from the cod. Remove the pin bones using pliers. Rinse the fillets in cold water and pat dry. Score the skin with a sharp knife and place skin side down on some rock salt. Leave for 1 hour.
Make the Red Wine Sauce: heat the butter in a heavy-based pan and brown the shallots and garlic in it. Add the star anise and orange zest and stir for about 1 minute. Add the thyme and red wine and reduce by half. Add the fish stock and reduce by one-third. Add the veal stock and reduce until it has the consistency of pouring cream. Taste and adjust the seasoning, adding a small pinch of sugar if necessary. Pass through a fine sieve and keep warm.
Make the 'potted shrimps': melt a knob of the butter in a heavy-based pan and sweat the shallot in it until softened but not coloured. Add the vinegar and wine and reduce down until only one-fifth remains. Add the cream and whisk in the remaining cold butter, diced. Season with salt, pepper, cayenne pepper and lemon juice. Add the shrimps and chopped parsley. Toss to coat them well and set aside in a warm place.
Cook the celery, peas and carrots in boiling salted water until just tender. Blanch the cabbage whole for 2 minutes only. Refresh them all immediately in iced water and drain. Shred the cabbage.
Wipe excess salt from the fish and cut each fillet across into 4 chunks. Heat a frying pan over high heat until very hot, then add a little oil. When that is good and hot, put the pieces of cod in the pan, skin-side down (lay them in away from you to avoid splashing yourself), and cook until golden and crisp for about 4-5 minutes. Turn them over and cook the other sides for 15 seconds only.
To serve: reheat the vegetables in a pan with a knob of butter and 2-3 tablespoons of water. Season to taste. Place a piece of fish in the centre of each serving plate, then arrange a pile of vegetables on one side and some shrimp on the other side. Spoon some red wine sauce around the plate.