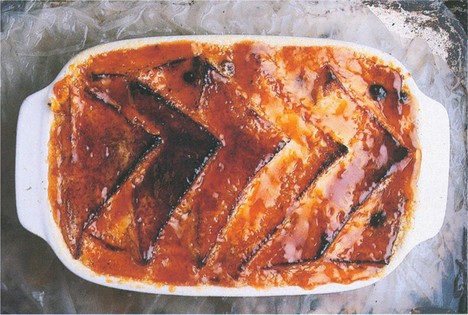 Appears in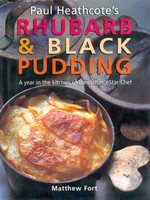 Ingredients
5 thin slices of white bread
65 g / 2¼ oz butter
100 g / 3½ oz sultanas
225 ml / 8 fl oz cream
225 ml / 8 fl oz milk
3 eggs
50 g / 2 oz sugar
1 vanilla pod
25 g / 1 oz icing sugar
50 g / 1 oz apricot jam
about 200 ml / 7 fl oz clotted cream
Method
At least 2 hours ahead, make the Compote of Apricots: bring 250 ml / 9 fl oz water to the boil and pour over the apricots in a heatproof bowl. Leave to stand for about 30 minutes. Add the remaining ingredients, pour into a pan and bring to the boil. Simmer for about 10 minutes. Leave to cool and remove the vanilla and cinnamon.
Preheat the oven to 190°C/375°F/gas 5. Butter the bread and remove the crusts. Place one layer of bread on the base of a 25 × 15 cm / 10 × 6 -inch rectangular earthenware dish about 6 cm / 2½ inches deep and cover with a layer of sultanas. Place the rest of the bread on top.
Mix the cream, milk, eggs and sugar, and pass through a sieve. Slice the vanilla pod down the centre and scrape out the seeds. Add to the custard mixture and pour over the bread. Allow to soak for 5 minutes.
Place the dish in a bain-marie and cook in the oven for about 30 minutes. Remove and allow to cool for about 15 minutes.
Preheat a hot grill. Dust the pudding with icing sugar and glaze under the grill until golden (if it starts to soufflé, remove from the grill and let it cool a little longer before repeating the glazing process).
Spread the top with the apricot jam and serve cut into wedges, with a quenelle of clotted cream (mould it with 2 tablespoons) and the compote of apricots. Spoon some English custard around the plate.