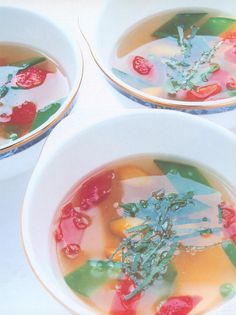 Appears in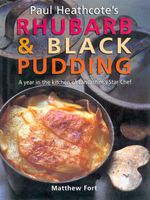 Ingredients
1.25 kg / 2½ lb over-ripe tomatoes
50 g / 2 oz basil, chopped
115 g / 4 oz chervil, chopped
3 sprigs of thyme, chopped
bunch of flat-leaved parsley, chopped
1 shallot, finely chopped
125 ml / 4 fl oz white wine
salt and freshly ground white pepper
pinch of sugar (optional)
more chopped chervil, basil or tarragon, to garnish
Method
Destalk the over-ripe tomatoes and place them in a large pot or bowl. Add the chopped herbs, shallots and white wine. Season.
With your hands, squeeze the tomatoes until they are all crushed. Place a piece of muslin in a large bowl and tip the tomato mixture into this, then tie up the muslin into a bag. If you have a sufficiently cold room, hang this overnight with a large container underneath to catch the juices; otherwise sit it in a colander set over a bowl in the fridge.
Next day, strain the resulting juice and chill again until quite cold.
Prepare the vegetable garnish: briefly blanch the tomato, refresh in iced water, then remove the skin. Halve, deseed and dice the flesh. Cook the other vegetables in separate pans of boiling salted water until just tender, then refresh in iced water. Drain and pat dry. Dice the courgette, carrot and celeriac.
Adjust the seasoning of the tomato juice; if it tastes a little sharp, add a pinch of sugar. Serve a small amount of the strained juice in a consommé cup, garnished with the chopped tomatoes, cooked diced vegetables and herbs.