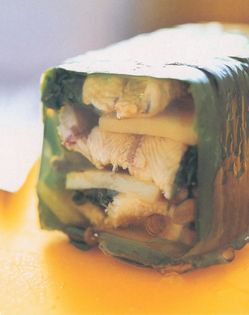 Appears in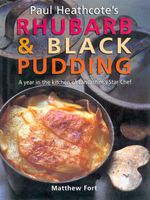 Ingredients
4 large eels, skinned, filleted and cut into long strips
2 large potatoes, cut into 5-mm / ¼inch slices
1 large leek, thinly sliced
7½ leaves of gelatine
600 ml /1 pint clear tomato juice
bunch of tarragon, chopped
bunch of chervil, chopped
salt and freshly ground white pepper
lemon juice
mixed salad leaves, to serve
Method
Several hours ahead, make the court-bouillon: put all the ingredients into a large pan with 500 ml / 18 fl oz. water. Bring to the boil and then lower the heat and simmer for about 20 minutes. Remove from the heat and allow to cool, then pass through a fine sieve.
Bring the sieved court-bouillon back to a simmer and poach the eel in it until just cooked through and firm, about 5 minutes.
Cook the potatoes in boiling salted water until tender. Cook the leeks in boiling salted water until tender.
Soak the gelatine in some cold water. When soft, drain off the water and dissolve the gelatine in a little warmed tomato juice, then add this to the rest of the juice. Stir well and then stir in the herbs and some of the cooked leeks.
Pour a layer of this about 1 cm / ½ inch deep in the bottom of a terrine and chill to set.
Add a layer of the eel, season with salt and lemon juice, then add more jelly (reheated if necessary) and allow to set again.
Add a layer of potato and continue in this way until the terrine is full. Then chill for several hours until quite firm.
Make the Boiled Onion Rings: boil the onion slices until tender, then drain well.
Make the Caper Dressing: in a bowl, mix the shallots, mustard, sugar and vinegar. Whisk in the oil and add the chopped capers. Season to taste. Add the parsley just before serving, to avoid losing its colour.
To serve, cut the terrine into slices about 2 cm / ¾ inch thick. Set each terrine slice on a bed of mixed leaves, scatter the boiled onion rings on it and pour some caper dressing over the top.