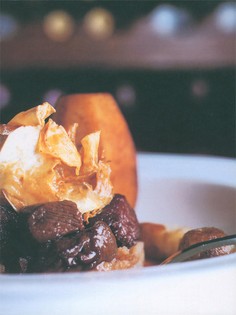 Appears in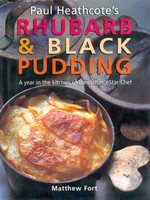 Ingredients
800 g / 1¾ lb haunch of venison
Method
Several hours ahead, make the sauce: preheat the oven to 190°C/ 375°F/gas 5 and brown the bones in the oven for about 1 hour. Roughly chop up all the vegetables and the garlic, keeping the tomatoes separate. Put the chopped vegetables into a pan with a little oil and cook until brown. Add the chopped tomatoes and cook a little longer, until some of the moisture has evaporated from the tomatoes. Add the port and reduce by half.
Put this with the browned bones into the pan, together with the thyme and juniper Pour in the chicken stock, bring to the boil and simmer for about 3 hours. Pass the stock through a fine sieve, discarding the solids.
Add the veal stock and reduce down until the sauce has a good strong flavour and pouring sauce-like consistency.
Preheat the oven again to 190°C/375°/gas 5.
Prepare the roast root vegetables: peel all the vegetables and cut them into diamond shapes. Poach in the duck fat for about 25 minutes, until soft but not overcooked.
Meanwhile, make the Celeriac Purée: trim the celeriac and dice it. Boil it in the milk until tender, about 25 minutes. Purée the drained celeriac in a blender or food processor.
In another pan, boil the whipping cream until thick, add the purée and season with salt and pepper. Keep warm.
Make the Kümmel Cream: put the shallot and juniper berries into a heavy-based pan, add the Kümmel and boil to reduce by half. Add the cream, and continue to reduce to achieve a consistency slightly thicker than the sauce (so the two won't mix). Sieve, season and keep warm.
Cook the venison: remove all the sinew from the haunch and cut the meat into 3-cm /1¼inch cubes. Season, then seal in a hot pan with a little oil until well browned on all sides. Braise in the oven with about 200 ml / 7 fl oz. of the sauce for about 15 minutes.
At the same time, finish the roast root vegetables: drain off the duck fat, then fry the vegetables briefly in a heavy-based ovenproof pan to colour and dry them slightly, Finish by cooking them in the oven for about 5-10 minutes, until the vegetables are golden.
To serve: arrange the roast root vegetables on the plates with the celeriac purée in the centre. Place the venison on top of the celeriac purée. Spoon a small cordon of the kümmel cream over the vegetables and some of the venison sauce around them.