Appears in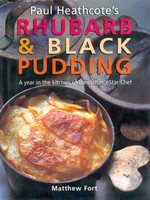 Ingredients
4 sirloin ribs of beef, cut through the bone, each about 350 g / 12 oz
large bunch of parsley, chopped
Method
Several hours ahead, make the Oxtails in Ale Sauce: preheat the oven to 190°C/375°F/gas 5. Trim the oxtails by removing the majority of outer fat and sinew from them, leaving a little to protect the meat. If the butcher has not already done so, cut into portions between the tail joints.
Sprinkle them with the oil and salt and roast them in the oven until brown all over, about 25 minutes.
Lift the oxtails out of the roasting pan, add the garlic, vegetables and herbs and cook in the oven until golden, about 30 minutes. Keep the oven on.
Leaving the vegetables in there, deglaze the roasting tray with the vinegar and sugar, and reduce by two-thirds. Add the red wine and three-quarters of the Guinness, then reduce by half.
Put the oxtails back in the tray and cover with the chicken and beef stock. Cover the pan with foil and cook in the oven for about 3 hours, until the meat is coming away from the bone.
When cooked, remove the oxtails and strain out the vegetables. Reduce the cooking liquor until coating the back of a spoon. Add the remaining Guinness and bring back to the boil. Taste, then adjust the seasoning, adding a little more sugar if it is slightly bitter. Add a little arrowroot to get a thickish sauce-like consistency.
Prepare the root vegetables: cook them in the simmering chicken stock until just tender.
Make the Horseradish Potatoes: boil the potatoes in their skins in simmering salted water until cooked. Avoid overcooking and splitting the skins. Drain in a colander and peel while still warm. Pass through a sieve or ricer into a bowl.
Bring the cream to the boil and beat it well into the potato, a little at a time. Stir in the butter and horseradish, and season.
Make the Mustard Cream: put the cream and mustard in a pan and bring to the boil. Continue to boil until thicker than the ale sauce, so the two won't mix.
Preheat a char-grill or heavy frying pan. Reheat the oxtail and root vegetables gently in some of the ale sauce.
Season the ribs and cook them on the char-grill or in the pan until done to taste: about 3 minutes each side for rare meat and 5 minutes for medium.
Just before serving, stir the chopped parsley into the oxtail. Pile some of the oxtail in the centre of each of the plates. Slice the rib and arrange around the oxtail. Using 2 large spoons, shape the horseradish mashed potatoes into quenelles and place these at the back of the plate. Dot the root vegetables here and there, pour on the ale sauce, sprinkle a little of the mustard cream over the beef and serve.