Appears in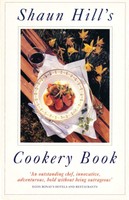 Ingredients
4 × 2 oz (50 g) slices duck foie gras
salt and freshly ground black pepper
1 tablespoon pine kernels
4 oz (100 g) celery, trimmed and chopped
4 firm tomatoes, skinned, de-seeded and chopped
1 pinch five-spice powder
1 dash soy sauce
1 oz (25 g) sesame seeds
Method
Season the slices of foie gras liberally with salt and pepper.
Heat a dry frying pan until it is red hot. Fry the liver on both sides. Lift the slices on to kitchen paper to drain.
Discard the foie gras fat in the frying pan and sauté the pine kernels, celery and tomato for a few seconds.
Spoon this garnish, with a pinch of five-spice powder and soy sauce, on to each plate. Sprinkle the foie gras with sesame seeds and place on top.