Appears in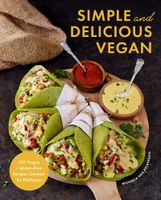 Ingredients
90 g (3.2 oz) fresh spinach
1 handful of fresh basil
Method
Instructions
Blend all the ingredients in a blender until completely smooth.
Transfer the mixture to a saucepan and bring it to a boil, stirring regularly.
Let it simmer for 1–2 minutes and stir frequently.
Serve with cooked pasta (or grains/potatoes) and enjoy. Store sauce leftovers covered in the fridge for 3–4 days.