Appears in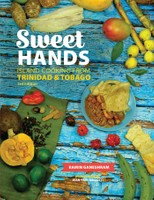 Ingredients
¾ pound smoked herring fillets
2 teaspoons canola oil
1 small onion, chopped
1 tablespoon finely chopped fresh chives
1 tablespoon finely chopped shado beni or cilantro leaves
2 cloves garlic, finely chopped
1 large roma tomato, chopped
1 small red chili pepper, finely chopped (optional)
Dumplings
½ cup all-purpose flour
½ cup cornmeal
Pinch of coarse salt
Method
Bring about 4 cups of water to a boil in a medium saucepan and add the herring fillets. Boil for 2 to 3 minutes and drain. Allow the fillets to cool and then finely shred. Set aside.
Make dumplings: Mix together the flour, cornmeal, and salt. Add 6 tablespoons of water and knead to form a stiff dough, adding more water if necessary. Knead until smooth and set aside to rest for 15 minutes. Pinch off 1-inch pieces of dough and roll between the palms of your hands to form ovals. Pinch both ends of the ovals, then flatten between palms or against a cutting board. The dumplings should resemble small flat footballs. Bring a large pot of salted water to a boil and add the dumplings. Simmer until dumplings float to the surface. Drain and set aside, keeping warm.
Heat a medium sauté pan and pour in the canola oil. Add the onion, chives, shado beni, and garlic and sauté for about 2 minutes, stirring often. Add the tomato and red chili pepper, if using, and mix well and cook 2 to 3 minutes more. Add the herring and fry for about 5 minutes.
To serve, divide the dumplings between four plates and put the smoked herring mixture on top, dividing evenly.