Make Filling
Wash the split peas and place in a pot with 3 cups of water. Bring to a simmer and cook until tender but not mushy, about 20 minutes. Drain.
In a food processor, place the cooked split peas, turmeric, garlic, chili pepper, shado beni, and cumin. Pulse to a coarse consistency like wet sand. Set aside.
Make Dough
To make the dough, whisk together the flour, baking powder, salt, and powdered milk in a bowl. Gradually add some warm water, using your fingers to mix the flour and water together until you achieve a soft sticky dough that just comes together into a ball—do not knead, just gently combine the flour and water. Cover and set aside to rest for 15 minutes.
Flour a work surface and turn out the roti dough. Cut the dough into 4 large pieces. Flour your hands enough to be able to handle the dough and only knead long enough to form the pieces into loose balls. Let rest for 15 minutes.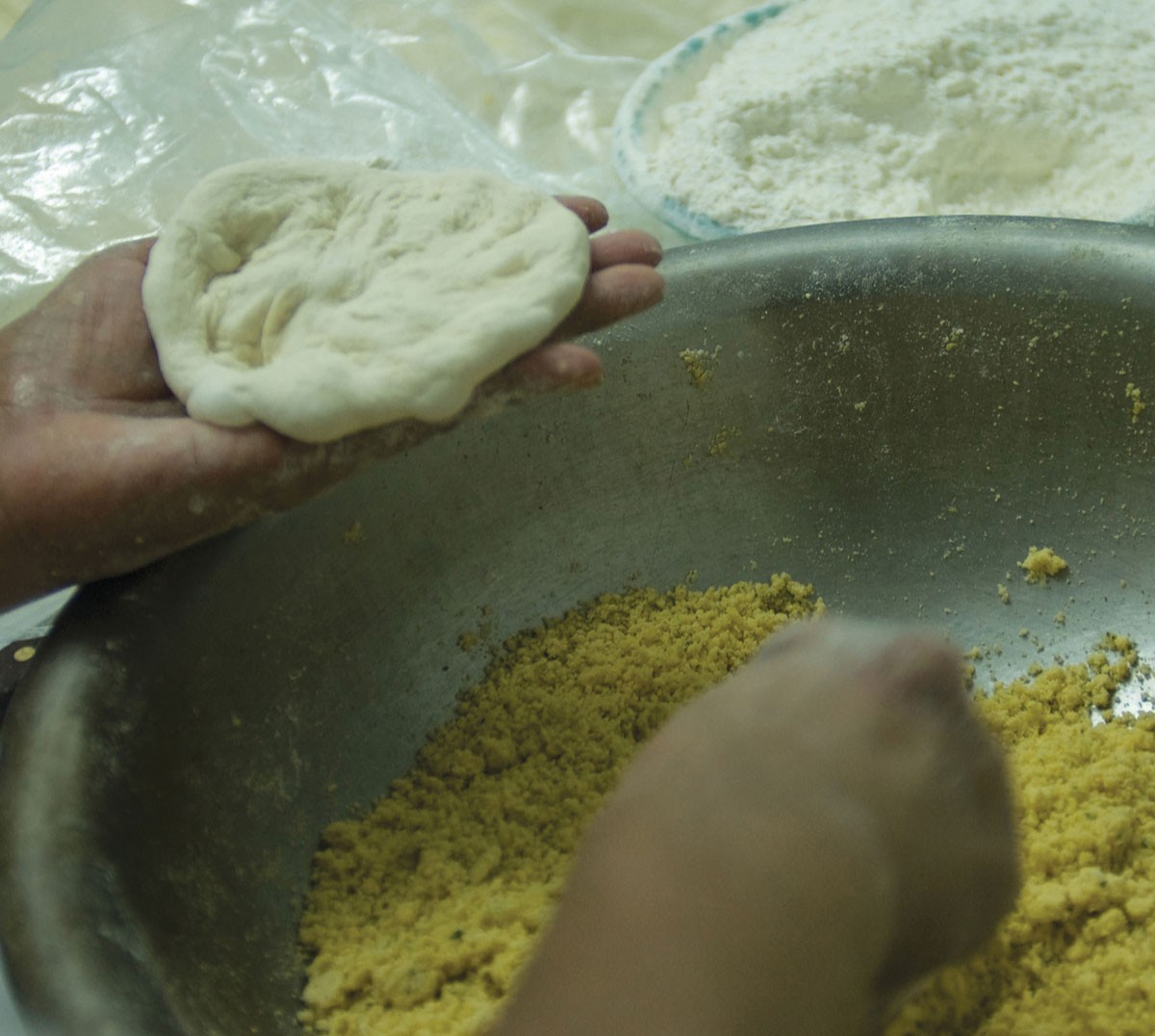 Make Dalpuri
Gently flatten each ball with your hand and sprinkle with some flour. Place 1 to 2 tablespoons of the split-pea mixture in the middle of each disk and pinch the dough closed around the filling, forming balls again. Let the dalpuri rest for 10 minutes.
Roll out each ball ¼ inch thick. Heat a tawa or cast-iron griddle. Test for readiness by splashing a few drops of water on, if it sizzles it is hot enough. Place the dalpuris on the tawa or griddle. Brush lightly with some of the oil, quickly turn over, and brush the other side with oil. Keep turning the breads quickly and often until the edges just brown and the bread puffs. Remove from the pan and serve warm.