Appears in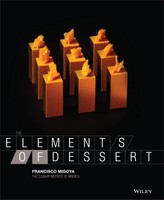 Ingredients
Butter 50 g 1.76 oz 22.73%
Quebec amber maple syrup 50 g 1.76 oz 22.73%
Kataifi (see Note) 100 g 3.53 oz 45.45%
Maple sugar 20 g .71 oz 9.09%
Method
Preheat a convection oven to 160°C/325°F.
Line a full sheet pan with a nonstick rubber mat.
Melt the butter with the maple syrup in a small sauce pot. Reserve melted.
Weigh out 10 g/.35 oz bundles of kataifi. Spread each bundle into a 7.5-cm/3-in square, using your hands to do so.
Using a spoon, drizzle about 10 g/.35 oz of the melted butter and maple syrup on each kataifi bundle. Sprinkle 2 g/.07 oz of maple sugar evenly over each bundle.
Bake until golden brown, about 10 minutes.
Let cool on the sheet pan at room temperature.
Reserve the bundles exposed during service, but covered, as they might soften with moisture. Be careful when handling them, as they are extremely delicate. Any left over can be reserved in an airtight container. Refresh them the following day in a warm oven for a few minutes, if needed. Only perform this refreshing once. If you have the same refreshed pieces left over for a third day, you are making too many and need to reduce your par stock.