Appears in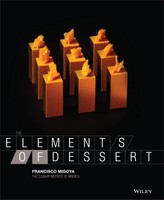 Ingredients
All-purpose flour 303 g 10.69 oz 13.82%
Cocoa powder 123 g 4.34 oz 5.61%
Salt 9 g .32 oz .41%
Baking soda 15 g .53 oz .68%
Baking powder 12 g .42 oz .55%
Sugar 600 g 1 lb 5.15 oz 27.37%
Eggs 250 g 8.82 oz 11.41%
Buttermilk 370 g 13.05 oz 16.88%
Cold coffee 340 g 11.99 oz 15.51%
Butter, melted but cool 170 g 6 oz 7.76%
White Velvet Spray 400 g 14.11 oz
Method
Preheat a convection oven to 160°C/325°F.
Lightly grease a half hotel pan with nonstick oil spray, and line it with a half sheet of parchment paper.
Sift all of the flour, cocoa powder, salt, baking soda, and baking powder and place in the bowl of an electric mixer.
Combine the eggs, buttermilk, and coffee in a bowl and whisk together to obtain a homogenous mix.
Place the bowl with the dry ingredients on mixer fitted with the paddle attachment. Mix on low speed and slowly pour in the egg mixture.
Once the liquid has been completely incorporated, pour in the butter and mix until it has combined completely.
Pour the batter into the prepared pan. Bake until the cake springs back when it yields to gentle pressure, 20 to 30 minutes. Or perform a knife test by introducing the tip of a knife down the center of the cake; if it comes out dry, it is done baking.
Cut the cake into cubes that are about 6.5 cm/2.5 in. The shape can be somewhat organic; it needn't be a perfect cube, but it should at least have a flat base to sit on.
Using a #40 ice cream scoop, hollow out the cake cubes from the bottom (the flat side). Freeze the cakes for about 45 minutes.
Meanwhile, melt the white spray. Set up a spray station, a surface that should be covered with plastic to keep the shop clean where you can spray the cake with the white velvet spray.
Fill a compressor canister with the white velvet spray and spray the cake with an even coating of spray. Keep the compressor gun at least 60 cm/24 in from the bombes to obtain a velvety smooth look.
Reserve the cakes in the refrigerator until needed. Wrap tightly with plastic wrap, trying to not damage the surface of the cake. The velvet may come off; to prevent this you may place the cakes inside a 10-cm/4-in deep hotel pan and then wrap the pan to protect the cakes. If refrigerated, they will keep in peak condition for 3 to 4 days. If frozen, they will keep for no longer than 1 month.