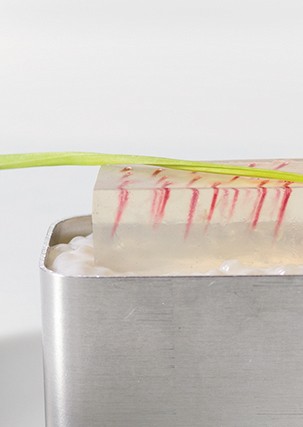 Appears in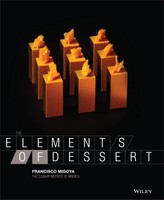 Method
Have ready a 10-cm/4-in square stainless-steel frame on a flat Plexiglas surface lined with acetate; it is crucial that this surface be completely flat. Surround the base frame that comes in contact with the acetate and Plexiglas base with a small tube of rolling fondant. Press down well.
Combine the aloe juice and the gellan gum in a sauce pot while cold. Bring the mixture to a boil and let boil for 10 seconds. Let it cool slightly.
Pour the contents of the sauce pot onto the frame and let it cool without moving the tray. Once it has set, cool the gelée down further in the refrigerator.
Once it has completely set, carefully remove the frame by passing a warm, sharp paring knife around the inside border of the frame. Dip the knife into hot water, dry it with a clean paper towel, and cut out 1-cm/.4-in wide batons. You should have exactly 10 pieces. Dip the knife in hot water and dry it each time you cut. Make sure you cut as straight as possible. Keep the pieces on the Plexiglas with the acetate.
Combine the hibiscus extract with the hibiscus syrup. Fill a long-needled syringe with the liquid.
Insert the needle on top of the gelée halfway in, and then inject the liquid as you pull the needle out. It should leave a thin line of hibiscus inside the gelée. Repeat until you obtain between 18 and 20 hibiscus "streaks" in each gelée.
Keep the gelées covered during service. Discard after service, since the hibiscus will stain the gelée too much, making the thin line disappear.