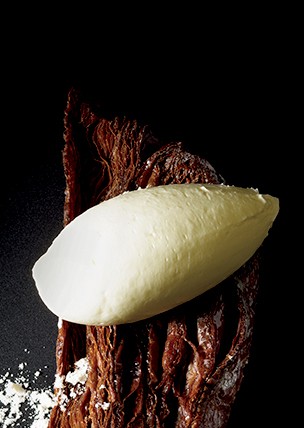 Appears in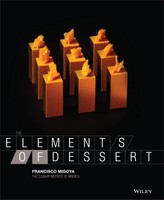 Ingredients
All-purpose flour 515 g 1 lb 2.17 oz 34.29%
Salt 12 g .42 oz .8%
Cocoa powder 50 g 1.76 oz 3.33%
Butter, melted 50 g 1.76 oz 3.33%
Pretacao cocoa paste 50 g 1.76 oz 3.33%
Cold water 300 g 10.58 oz 19.97%
White vinegar 25 g .88 oz 1.66%
Butter (block) 500 g 1 lb 1.64 oz 33.29%
Egg Wash 50 g 1.75 oz
Corn syrup 50 g 1.75 oz
Method
Combine the flour, salt, and cocoa powder in the bowl of an electric mixer fitted with the dough hook.
Turn the mixer on low speed and slowly pour in the melted butter. Mix until just combined.
Add the cocoa paste and mix until combined evenly.
Combine the water and vinegar, add to the dough, and mix until just combined. The dough does not require any gluten development.
Let the dough rest covered on a half sheet pan lined with well-floured parchment paper for 30 minutes.
Press the dough down to fit inside the half sheet pan so that it will be rectangular. Wrap the dough and refrigerate for at least 2 hours so that it firms up.
Proceed with the lamination procedure.
Sheet the dough down to 5 mm/.2 in thick. Let it relax for 30 minutes in the freezer.
Preheat a convection oven to 160°C/325°F.
Once the sheet of dough is semi-frozen, use a wheel cutter and a ruler to cut out 10 strips 2.5 cm/1 in wide by 12.5 cm/5 in long. Brush each piece with egg wash, making sure the egg wash does not trickle down the sides of the dough because this can hinder the dough from its full expansion. Place them on a sheet pan lined with a nonstick rubber mat. The dough should still be very firm and semi-frozen before it is put in the oven; if not, return the dough to the freezer for a few minutes. Semi-frozen dough bakes much better than soft dough.
Bake the puff pastry until it is crisp, 12 to 15 minutes. It may require more time than this, though; check for crispness.
Remove the puff pastry from the oven and brush each piece with corn syrup on the top and sides. Bake for 5 minutes longer. Let cool at room temperature.
Reserve in a dehydrator set to 50°C/120°F. Discard any pieces that are left over after service.