Appears in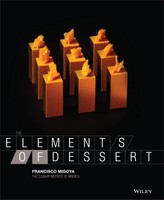 Ingredients
Butter, soft 210 g 7.41 oz 35%
Sugar 105 g 3.7 oz 17.5%
All-purpose flour 245 g 8.64 oz 40.83%
Rice flour 35 g 1.23 oz 5.83%
Salt 5 g .18 oz 83%
Method
Line a half sheet pan with a nonstick rubber mat.
Cream the butter with the sugar in an electric mixer fitted with a paddle attachment until it is light and fluffy.
Stop the mixer and add all the flours and salt. Pulse the mixer until a homogenous mass is obtained.
Spread it evenly onto the prepared sheet pan until it is about 6 mm/.25 in thick.
Freeze the dough until hard, about 30 minutes.
Meanwhile, preheat a convection oven to 160°C/325°F.
Score the dough using a fork.
Bake it until golden brown, 10 to 13 minutes.
Let cool at room temperature.
Once it is cool, grind it in a Robot Coupe until fine. Pass it through a drum sieve; grind what was left in the sieve and pass it through the sieve.
Reserve in an airtight container at room temperature for service. Discard after 3 days. The excess may be reserved frozen for up to 1 month.