Appears in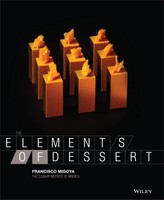 Ingredients
Dark chocolate, tempered (preferably 64% or higher) 1.6 kg 3 lb 8.32 oz
Method
Brush the inside of cube molds measuring 5.5 cm/2.25 in square by 7.5 cm/3 in deep (see Resources) with the tempered chocolate (to prevent bubbles in the corners of the molds). Pour the chocolate into the molds. Let sit for about 1 minute, then turn the molds over and empty out the excess chocolate out. Let the molds sit on a cooling rack to allow the excess chocolate to pour out.
Scrape the bottom of the molds with a putty knife.
Cool the chocolate in the refrigerator.
Once the chocolate looks like it has released from the mold, try to pull it out. Since this mold is straight, sometimes it is hard to pull the chocolate out. You may need to freeze the molds for a few minutes, and then let them sit at room temperature for a few more minutes and then try to release the chocolate. Always make more than you need, since there is a good chance that some cubes will crack.
Reserve the molds in a cool dry area, preferably enclosed. Discard after 1 year.