Appears in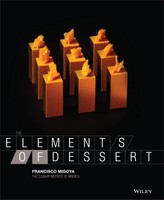 Ingredients
Cocoa Nib Stock
Water 600 g 1 lb 5.12 oz 66.67%
Cocoa nibs 300 g 10.58 oz 33.33%
Liquid Cocoa Base
Cocoa Nib Stock 500 g 1 lb 1.64 oz 78.13%
Cocoa powder 50 g 1.76 oz 7.81%
Sugar 90 g 3.17 oz 14.06%
Chocolate Veil
Liquid Cocoa Base 450 g 15.87 oz 99.08%
Gellan gum, low acyl 4 g .15 oz .92%
Method
For the cocoa nib stock: Bring the water to a boil and pour it onto the cocoa nibs. Cover with plastic wrap and let the nibs steep for 20 minutes.
Strain the nibs out using a fine-mesh sieve and then strain the liquid through cheesecloth.
Using an ice water bath, cool the liquid down to make the liquid cocoa base.
For the liquid cocoa base: Combine the cocoa nib stock, cocoa powder, and sugar and mix well using a handheld blender. Pass through a fine-mesh sieve.
For the chocolate veil: Have 3 flat, square plastic trays measuring 30cm/12 × 30cm/12 in available; there will be 4 orders that come out of each tray. Fill each tray with hot water; the intention is to keep the tray hot so when the chocolate veil comes in contact with the tray, it will not set too quickly. Have a bowl close by to empty the water out when needed.
Pour the cold liquid cocoa base into a small sauce pot and whisk in the gellan gum.
Bring it to a boil and let it boil for 5 seconds. Skim the surface of any scum.
Empty the first tray of its hot water and dry it quickly. Pour one-third of the cocoa liquid into the tray and move it around to distribute the liquid in a thin, even layer.
Do the same with the remaining trays and chocolate mixture. Allow the gel to set at room temperature, and then transfer it to a refrigerator.
Trim the borders away using a ruler and a paring knife (about 5 mm/.25 in from the rim of the tray). Cut out 4 squares from each tray measuring 12.5 cm/5 in by 2.5 cm/5 in; you will have 12 squares, which is 2 more than you need. Keep the trays covered with plastic wrap during service, making sure the plastic does not come in contact with the veil. Discard after 2 days.