Appears in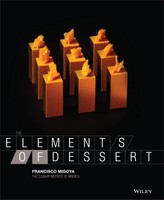 Ingredients
Milk solids 30 g 1.06 oz 4.35%
Butter, soft 210 g 7.41 oz 30.43%
Sugar 105 g 3.7 oz 15.22%
All-purpose flour 245 g 8.64 oz 35.51%
Rice flour 35 g 1.23 oz 5.07%
Salt 5 g .18 oz .72%
Butter, melted 60 g 2.12 oz 8.7%
Dried cranberries, finely chopped 100 g 3.52 oz
Method
Toast the milk solids in a sauté pan over medium heat, stirring with a wooden spoon to obtain an even browning. Once they are toasted (aromatic and brown), let them cool at room temperature and grind them to a fine powder.
Put the soft butter and sugar in the bowl of an electric mixer fitted with a paddle attachment. Mix them on medium speed until they are evenly mixed, 3 to 5 minutes.
Add the toasted milk solid powder, all-purpose flour, rice flour, and salt. Mix until they are just incorporated.
Spread the batter into an even, 5-mm/.25-in-thick layer on a sheet of parchment paper using a rolling pin. Transfer it to a sheet pan and freeze it until it hardens.
Meanwhile, preheat a convection oven to 160°C/ 325°F.
Once the dough is frozen, dock it all over using a fork.
Bake it until the surface is golden brown all over, 10 to 15 minutes.
Cool at room temperature. Once it is cool, break it into small pieces and grind it into fine crumbs using a Robot Coupe.
Add the melted butter while it is mixing in the Robot Coupe.
Take the dough out of the cup and mix in the cranberries by hand.
Put a half nonstick rubber mat on a flat surface such as a marble table and place a 5-mm/.25-in-thick frame on top of the rubber mat. Put the mixed dough into the frame. Flatten it as much as possible with your hands, then place another half rubber mat on top of the dough and even it out using a rolling pin.
Transfer the dough onto a flat sheet pan and freeze. Once it has hardened, cut the dough into 7.5-cm/3-in squares. Reserve in the refrigerator. These squares will be the base of the pumpkin mousse. If there are more than 10 squares, reserve them for future use. Any trimmings can be reshaped and used again.