Appears in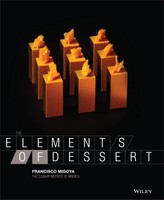 Ingredients
Confectioners' sugar 170 g 6 oz 19.79%
Almond flour 170 g 6 oz 19.79%
All-purpose flour 105 g 3.7 oz 12.22%
Lemon zest 3 g .11 oz .35%
Eggs, at room temperature 210 g 7.41 oz 24.45%
Natural yellow food coloring (see Note) 1 g .04 oz .12%
Egg whites 140 g 4.94 oz 16.3%
Superfine or bakers' sugar 30 g 1.06 oz 3.49%
Butter, melted but cool 30 g 1.06 oz 3.49%
Method
Preheat a convection oven to 135°C/275°F; if possible, turn the fan speed down to low.
Lightly grease the interior border of a half sheet pan with nonstick oil spray. Line the sheet pan with a nonstick rubber mat.
Sift the confectioners' sugar, almond flour, and allpurpose flour together and place in an electric mixer bowl.
Add the lemon zest to the bowl and mix on low speed using a paddle attachment.
Add the eggs slowly and incorporate completely. Add the food coloring and mix until it is completely combined. Take the bowl off the mixer.
Whip the egg whites with an electric mixer on high speed. When they have doubled in volume, slowly pour in the sugar. Whip until the whites have whipped to stiff peaks. Fold the whites into the flour mixture in 2 additions.
Fold in the melted butter.
Spread the batter in an even layer on the prepared sheet pan.
Bake the Joconde until done but without any color, about 8 minutes. This is why the cake is baked at such a low temperature on low fan speed, so that it bakes through without gaining any color.
Cool the cake to room temperature. Place it in a dehydrator set to 50°C/120°F or an oven set as low as it can go. Alternatively, you may leave it in the oven overnight with the heat of the pilot alone to fully dehydrate it.
Once it is dry, break it into small pieces and grind it into crumbs in a Robot Coupe.
Reserve in an airtight container at room temperature in a cool, dry place. Discard after 2 weeks.