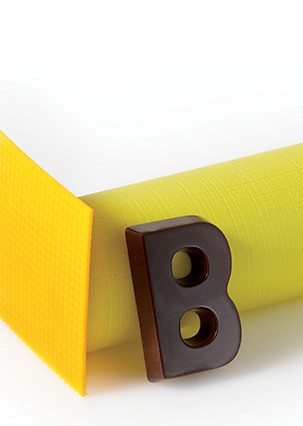 Appears in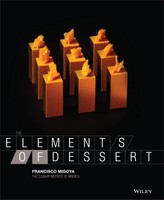 Ingredients
Bergamot-Infused White Chocolate
White chocolate coins 1 kg 2 lb 3.2 oz 83.33%
Bergamot orange peel 200 g 7.05 oz 16.67%
Chocolate Shell Tubes
Bergamot-Infused White Chocolate 500 g 17.64 87.72%
Natural yellow cocoa butter 50 g 1.76 8.77%
Natural green cocoa butter 20 g .71 3.51%
Method
For the infused chocolate: Turn a circulating water bath on to 35°C/95°F.
Make sure the bergamot peel has no pith attached.
Place the chocolate and the peel in a vacuum-seal bag and vacuum seal it. Place the bag in the hot water bath and let it infuse for 2 hours.
Remove the melted chocolate first from the bath, and then from the bag, and pour it onto a sheet pan to cool and set. Remove the peel pieces.
Once the chocolate has set, chop and reserve it in an airtight container at room temperature. It will keep and be aromatic for up to 1 year.
For the chocolate shell tubes: Cut out 10 sheets of textured acetate 12 cm/3.75 in wide by 12.5 cm/5 in long (see Resources). Have 10 PVC tubes measuring 12.5 cm/5 in long by 5 cm/2 in diameter ready for use.
Melt the chocolate and cocoa butters together and then temper them (see method).
Spread an even layer of chocolate on the textured acetate rectangles using an offset spatula. Gently roll the acetate into a tube shape and slide it into the PVC tubes to set. Reserve in a cool, dry area for up to 1 year.